BEST KAYAK OUTRIGGER: INTRODUCTION
After you've read KayakFishingCorner.com's Kayak Outrigger Ultimate Guide, and have decided that a kayak outrigger is the right piece of kayak fishing gear to incorporate into your kayak fishing collection, you'll want to determine which kayak outrigger to move forward with. Don't worry, we ranked The 5 Best Kayak Outriggers for you!
I struggled with this exact same decision when trying to select which kayak outrigger I wanted to buy. After all, there are several of these type of products on the market. I knew I wanted the best kayak outrigger available, but which one?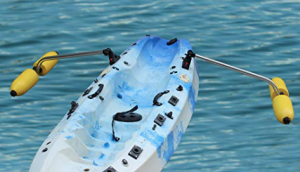 Unbiased Review
First, as an Amazon Associate, I earn from qualifying purchases.
KayakFishingCorner.com articles are 100% free from third party bias. Each article, and product review for that matter, is based upon our own independent research.
Our goal is to be the kayak fishing community's #1 free resource for all things kayak fishing! We have created this site to share our knowledge about kayak fishing, and to serve as a gathering place for kayak fishing enthusiasts of all levels of skill and experience!
Parts of a Kayak Outrigger
Overview
Please note: This post contains affiliate links. An affiliate link means that we may earn advertising/referral fees if you make a purchase through our links.
Just like you see in the image above, boaters have long used outriggers on vessels of all kinds of different shapes, sizes and designs. Large or small, the outrigger is designed to add to the surface area, stability and balance of the vessel. A fishing kayak is no exception. While they are still relatively new to the market, kayak outriggers have begun to become more and more prevalent. We've noticed that the quality of the products has some up, while the price has remained flat or even come down slightly. In any event, we are happy to see the increased availability of the kayak outrigger on the market and it is our opinion that this is one of the most important pieces of kayak fishing gear on the market today!
It turns out that I was not alone in my quest, as many members of the kayak fishing community have written in to KFC sharing their own experience and frustrations with deciding which kayak outrigger was in fact the very best kayak outrigger. I decided that it was time to put pen to paper and conduct some serious research into kayak outrigger availabilities. I wanted to know, once and for all, which was the top of the line, very best kayak outrigger. The results of that painstaking research have been included in this KFC post.
I have included all of the details for the best kayak outrigger. Doing so required that I organize this article into a handful of different categories, including a brief "how to" check list about how to use what we've named as the best kayak outrigger, a section containing all of the key features of this particular outrigger, and a brief story about our own personal experience with the outrigger. Finally, we've included a link towards the bottom of this article that will direct you to where you can find out more about this particular outrigger, and can even purchase one for yourself, if you are so inclined!
Remember, kayak outriggers are one of the more expensive pieces of equipment that you'll come across in your kayak fishing hobby. Also, they are individualized items, meaning that you only really have a need for one of them, rather than a collection. Because of their expense, and because of the "one time only" goal you will likely have when selecting a kayak outrigger, its important that you pick the best outrigger on the first go around. We are certain that if you choose the kayak outrigger that we've showcased in this article, you will be very pleased with your decision. I know that several of our readers have been!
How to Use the Best Kayak Outrigger
Before we get into all of the different features that we feel are most noteworthy relative to this kayak outrigger, we want to spend a little time going over some outrigger basics. After all, what good does it do to have the best kayak outrigger, but not have any idea how to properly attach and use it? The short guide below walks you through some quick tips that should have you and your kayak outrigger up and running in no time. Take a look!
Before use, you'll want to identify where on the fishing kayak you want to locate your kayak outrigger.
KFC recommends that you locate the kayak outrigger between roughly 2/3rds and 3/4ths of the way towards the back of the fishing kayak.
Installing the outrigger near the stern of the kayak ensure that the outrigger's pontoons stay out of the way of your paddling motion and also results in fewer entanglements of the fishing line and other pieces of gear (like your kayak anchor).
Also, putting the outrigger near the stern of the kayak allows for greater stability, as kayak fishermen tend to stand close to the rear of the fishing kayak, just in front of the kayak's seat, while casting.
Once you've selected a location to make your installation, secure the kayak outrigger to the hull of the fishing kayak.
To do this, use the mounting hardware included in your kayak outrigger package. A correct installation should look something like the picture below:
If you haven't already attached them, now is the best time to attach the pontoons to the arms of the kayak outrigger.
You'll need to be certain that your pontoons are safely attached to the outrigger arms. It is imperative that they do not become detached while you are out on the water.
Lastly, adjust the height (or angle) of the kayak outrigger arms in accordance with the type of water condition you are encountering.
Tilt them upwards if you only want them to counteract your motion when the fishing kayak is leaning far to one side or the other.
Angle them almost parallel with the water (like shown below) if you want them to move evenly along with the fishing kayak.
Tip them slightly downward if you want to put pressure on the water. This provides the maximum amount of leverage against the "rocking" of the kayak while in high or swiftly moving waters.
Do not angle the outrigger at too sharp of a downward angle, because this will put a high degree of strain on the connection point to the kayak and may even result in damage to the kayak's hull!
Important Features of the Best Kayak Outrigger
Keep in mind that the purpose of an outrigger system is to keep the fishing kayak stable and balanced. This is true both while the fishing kayak is moving and also during times when the boat is at rest (like when you've finally arrived at the prime fishing location and want to stay and fish the same location for awhile).
An outrigger system is designed to provide a larger surface area such that the kayak has something to balance against while it is experiencing pressure from the opposite side of the outrigger. Think about it in terms of a counter balancing system. A high quality outrigger is important in instances when pressure is applied to the kayak from a wave, current, or even wind (envision a wave or strong wind impacting the right side of the kayak, with the kayak outrigger located on the left side, or even both sides, to assist in stabilizing).
Kayak outriggers, sometimes called kayak "stabilizers", aren't always needed. Truthfully, there are many instances where waters will be calm enough that an outrigger won't serve much of a purpose at all. But, as kayak fishermen know, the conditions on the water are ever changing. It is better to have your kayak outrigger and not need it, rather than need your kayak outrigger and not have it. Given that most kayak outriggers, including the best kayak outrigger that we highlight here, are removable and adjustable, KFC always suggests that its readers put serious thought into bringing them along on every trip – just to be safe!
The "arms" of this outrigger are nearly 3 feet long. This length, when combined with the width of the average fishing kayak, and the thickness of the buoys, results in a fishing kayak surface area that spans well over 9 feet!
Remember, a kayak outrigger is only going to be as good as the length of its arms. Too short? You won't have enough leverage or surface area for the counterbalancing to be of any use. Too long? You will likely experience difficulty navigating the fishing kayak around necessary twists and turns and could put too much stress on the hull of the fishing kayak. We have found that the 3 foot mark is the sweet spot in terms of length!
The pontoons of this outrigger are appropriate in size to provide enough buoyancy to push against waves, currents and the wind. It is important that your kayak outrigger has high quality and buoyant pontoons. This outrigger comes complete with molded PVC pontoons, which are highly durable, very buoyant, and come with the added benefit of making your fishing kayak more visible to other lake traffic (due to their yellow coloring) without detracting from the natural beauty of your surroundings!
One of the most compelling reasons to name this kayak outrigger as the best is the adjustability of its arms. Remember, adjustability is critical because often times, even when the forecast calls for a calm day of weather, it is possible to encounter waves of different sizes (like from passing boats) and even quickly worsening conditions.
If you look closely at the image below, you'll see that the device used to mount the kayak outrigger to the hull of the fishing kayak itself contains an internal ratcheting system that allows for a seemingly endless number of angles at which the outrigger arms can be positioned.
It will almost always be beneficial to have the ability to raise or lower the kayak outriggers depending on the type of waves you are encountering. If you need to deepen the rudder into the water, like when you are paddling or traveling forward and need to keep a straight course, you'll need to raise the outriggers thus allowing the rudder, and fishing kayak, to sit deeper in the water.
Other times, like when the water is particularly choppy (like it was during my day on Broken Bow Lake), you'll need to lower the outriggers to put pressure against the water. This will increase the surface area, creating a counter balancing result. When appropriately counter balanced, your fishing kayak will be a much more formidable adversary to waves, winds and currents of much greater sizes!
Buy the Best Kayak Outrigger
My kayak outrigger has truly become one of my favorite pieces of kayak fishing gear. This particular outrigger is pretty easy to fall in love with. I found that attaches to the hull of the kayak relatively easily – it only took me about 10 minutes per outrigger, and I'm no handy man!
(Commissions Earned)
Also, the adjustability of the outrigger makes it a great asset when I am unsure of what kind of waters I am going face on any given kayak fishing outing. The ability to adjust the arms at a mere moment's notice is very handy. The manufacturer hasn't skipped on quality either. I have now heard a number of testimonials attesting to the durability of this kayak outrigger season after season. Some responders, in particular, have commented that they only kayak fish in the ocean, and that the outrigger has been able to withstand the constant pressure of the waves without compromising its shape, function, or any of its connection points!
Now that you've learned all about the best kayak outrigger, KFC recommends that you pair it with another of our favorite pieces of kayak fishing gear – a kayak trolling motor. But don't get just any trolling motor, we've already done the research required to lead you to the best kayak trolling motor on the market!
My Experience
If you've read the KFC article about the top 3 kayak trolleys for kayak fishing, you'll know that I have been using my kayak trolley to explore all different kinds of kayak fishing destinations. One of my favorite new spots is in Broken Bow Lake in far southeastern Oklahoma. Why? Because this particular lake is very large, surrounded by mountainous terrain, and is ful of a wide variety of game fish!
During one particular trip, last Fall, I had set out very early in the morning and was having great luck! I must have caught 10 or so large mouth bass in just under two hours. I was having such great luck that I failed to notice that a storm was gathering to the south and west of the lake and the skies began to take an ominous turn.
Before I knew it, I was stuck in the middle of the lake when the winds went from 5-10mph, all the way up to 50mph gusts! The high winds, combined with the wakes from many power boats that were scrambling for cover, was nearly enough to topple my fishing kayak!
With the water being a chilly 45 degrees, and with many hundreds of dollars worth of kayak fishing gear certain to be lost if I experienced an overturn, I found myself in a very precarious position. While I was able to make it safely to shore, I promised myself right then and there that I would track down the best kayak outrigger, and wouldn't ever travel out onto the water again without having it installed on my fishing kayak!
SCORES
Quality – 3.75/5
While this outrigger is largely comprised of high quality components, we have heard reports that the connection points that join the arm to the hull of the kayak itself have loosened or even cracked after periods of extended use. We suspect that this is the exception, rather than the rule, but it is something to be mindful of when making your purchase decision.
Performance – 4.25/5
We've tested this kayak outrigger in the lake and in the ocean. It is more than capable of adding the extra level of stability that so many of us who like to stand when we cast are seeking. Even moderately sized waves are no match for this kayak outrigger.
Price – 4/5
Ranging between $100 and $200, this kayak outrigger isn't the most expensive piece of kayak fishing gear, but it also isn't cheap. Even though there is a certain expense, we think that the extra peace of mind provided by the outrigger more than outweighs the additional cost.
Durability – 4/5
This outrigger will stand up to season after season of use due to its quality components – particularly the buoy and the arm itself. We are always excited to find a piece of kayak fishing gear that we know we will be able to use for many years to come, and this kayak outrigger certainly falls into that category!
Overall – 4/5
Averaging a solid 4/5, KFC is pleased to recommend that its readers put serious consideration into making this kayak outrigger a permanent piece of their own collections of kayak fishing accessories. Whether you want the certainty to stand and cast, or whether you are just looking for a little extra comfort and balance when tandem kayak fishing, this kayak outrigger certainly holds broad based appeal for the kayak fishing community!
CONCLUSION
I hope this article has helped you learn more about what we feel is the best kayak outrigger on the market today. Remember, if you still have questions about KFC's named best kayak outrigger, we'd be happy to help, just make sure to write a comment near the bottom of this page! Truth be told, you will not need kayak outriggers for every single kayak fishing trip. But remember, many kayak outriggers, like the Best Kayak Outrigger, are designed such that you can easily raise the outriggers up and out of your way if the need for their deployment never arises. However, if your weather conditions quickly worsen, you can drop the outriggers and keep kayak fishing with a vastly reduced chance of overturning! Just make sure to keep an eye out for lightning!
Keep in mind that outriggers are not "permanent". Simply snap the outriggers on and off as your need or desire for them changes based on the location and weather conditions of your kayak fishing destination. Sure, this will take some time, but truthfully only a minute or two. We think you'll be glad to have the flexibility provided by the ability to go "on again" and "off again" with relative ease.
KayakFishingCorner will continue to actively monitor the market to see if another, possibly superior, kayak outrigger becomes available and knocks this model highlighted from its Best Kayak Outrigger designation! For now, at least, we are certain that you'll be happy with this particular model! Looking for an easy way to push your fishing kayak along the trail to the lake? See if the Best Kayak Cart would suite your needs! Want to learn more about the history of this balance enhancing tool?
Have you ever considered a little friendly kayak fishing competition? Make sure you agree upon some of the ground rules first!
Best Kayak Outrigger: Comments
Do you have any questions regarding KFC's Best Kayak Outrigger award winner? What about kayak fishing in general? Please share with the rest of the KayakFishingCorner community by posting in the Comments section below. We love to hear from the KFC community!