FOOT CONTROL TROLLING MOTOR: INTRO
Did you know that there is more than just one way to control your fishing kayak's trolling motor? Well, there is! Foot control trolling motor products have burst onto the scene and are now the single most important accessory to making you a more efficient and effective kayak fisherman right out of the box! Before you get into this article, we suggest that you read through KFC's Kayak Trolling Motor Ultimate Guide – the Ultimate Guide will get you up to speed on trolling motors in a hurry!
When you're done, but not before you've taken a look at our ranked 5 Best Kayak Trolling Motors, we suspect you'll be very interested in learning more about this kind of kayak fishing accessory!
Foot Control Trolling Motor: Guide
First, as an Amazon Associate, I earn from qualifying purchases.
This KFC article contains everything you need to know to decide whether a foot control trolling motor is right for you! We start this article by going over some basic information about this particular type of kayak fishing gear. This will help you get up to speed quickly and will serve as your foundation for the rest of the post.
After that, we've created a short "how to" checklist that walks you through some of the high points about how to install and use basic foot control models. We then move on to a listing of the top 3 most important features that you need to look for when you are deciding which foot control trolling motor to buy for yourself. We go into great detail on each feature so that you can understand what it is and why it is important!
We've also included a link to the product page for one of our favorite kinds of foot control trolling motors. Odds are, if it isn't covered in this post, the manufacturer's product page will have the information you are looking for! We also included a short story about our own experience using this kind of trolling motor control system. Hopefully you find it to be entertaining and helpful! Be sure to leave a comment for us at the bottom of this page and tell us what you think!
Parts of a Kayak Trolling Motor
Foot Control Trolling Motor: The Basics
Please note: This post contains affiliate links. An affiliate link means that we may earn advertising/referral fees if you make a purchase through our links.
The image above shows what the actual "foot control" of the basic foot controlled trolling motor looks like. Yes, there are many on the market, but they are all at least somewhat similar in appearance and function to one another! Notice that it has the ability to steer you left, right and even "lock" you onto particular location by using the a Spot-Lock feature (learn more about GPS Trolling Motors). These are critical features, after all, it is these very features the are the ones most commonly used by kayak fisherman.
Notice the slight depression at the bottom of the pedal (just above the left and right arrow). This is the back of the pedal and it is designed to keep your foot from sliding off of the pedal in wet or bumpy conditions. By pushing down with your heel, you will cause for the trolling motor to propel you backward. Likewise, by pressing down with your toes, you will cause for your trolling motor to propel you forward!
Most foot control trolling motors, but not all of them, come with a "low profile" design. This just means that the actual foot control sits low and flush to the bottom of the fishing kayak. This is important because you will oftentimes position the foot control inside the hull of the kayak (near your feet) and you want to keep it from taking up valuable leg room! Other kayak fishermen mount their foot controls near the cockpit or even the stern of the kayak. These areas are also a little tight on space and can even be a tripping hazard! A low profile foot control trolling motor is far superior to the "standard" models.
How to Use Properly
Some kinds of kayak fishing gear can be pretty tough to use. Luckily for us, a foot control trolling motor is one of the more "user friendly" accessories on the market. Of course, we would be remiss not to suggest that you take a look at the owner's manual that comes with the type of foot control that you decide to move forward with. After all, every model is just a bit different from the next and you don't want to miss an important detail! The checklist below will serve as a quick reference guide for helping you through some of the steps involved with using a foot control trolling motor. Let's take a look:
Believe it or not, many KFC readers report that they open the box of their foot control trolling motor when they have arrived at their fishing destination. Don't do this!
You'll want to open the box inside, somewhere free from the windy, rain and potential uneven surfaces that pose risks of an inadvertent misplacement of some of the small pieces that go with your foot control trolling motor.
Identify the foot control, the waterproof connector cord, and the small baggie.
Find the protective covers on each end of the waterproof connector cord. These can be removed.
Locate and align the connector keys.
Plug one into the foot pedal and one into the trolling motor.
Securely tighten any nuts that have come with the product to ensure a snug fit.
Note that the baggie contains rubber bumpers. These are for use in foot pedals where the pedal will be placed on a non carpeted surface (like the hull of your kayak).
There are slots on the bottom of the pedal into which the rubber bumpers should be inserted and pushed into place. This will prevent sliding, keeping the foot pedal safely secured in the desired location!
Touching your toe on the top left or bottom middle button will turn the motor on.
To keep it on, you'll want to tap the "con" button (for continuous). If you want it to turn on and off, you'll want to tap the "con" button again, which will place you into "momentary" mode.
Now just rock to the left, right, back and front to direct your foot control trolling motor. How user friendly is that?!
Foot Control Trolling Motor: Important Features
There are a number of different ways to control your kayak and trolling motor. The most common way is still to do so by hand – using a handheld throttle that is connected directly to the shaft of the motor. Another popular way is by using a wireless remote control (these are usually the size of a standard TV remote control). Finally, as you might have guessed given the topic of this post, there is the foot control trolling motor!
There are actually a handful of very quality manufacturers and models of foot control trolling motor on the market today. This is fantastic for kayak fishing enthusiasts because this means that you have a choice! Even though there is a pretty good variety of this type of kayak fishing gear, you need to be sure that the model you choose has certain features. We have highlighted the top 3 features that you need to look for when deciding among the different kinds of foot control devices that you'll come across! We go into detail on each feature below so that you can understand exactly what to look for and why it is important!
Smart Design. We all know that space comes at a premium – this is particularly true for fishing kayaks. Any kayak fishing product that can be acquired without "costing" you much in terms of space is to be desired. This is why you need to look for a foot control trolling motor that is "low profile". A low profile is one that measures only 2-4″ in height and can easily be slipped into the hull of the kayak without costing valuable leg room. If you are thinking about mounting your foot control on the top (deck) of the kayak, a low profile will keep you from tripping when you maneuver about the kayak.
You'll also want the design to be supplemented with an appropriately sized, waterproof connector cable. The connector cable connects the foot control to the trolling motor itself. We suggest finding a model that includes a cord of at least 15 feet. 15 feet, you say? Yes! While most kayaks are less than 15 feet in length, you'll want a little extra slack because there will be times when you are required to get creative with the angle or location of the connector cable to get your foot control in just the right location!
Efficient Controls. If you are looking for a foot control trolling motor then, by definition, you are looking for a trolling motor that can actually be controlled by your feet! We were amazed just how many foot controls didn't have all of the capabilities and features required to allow for the kayak fisherman to steer and navigate his or her kayak equally as well by foot as by hand. What is the point of buying a foot control trolling motor if you can navigate the kayak more effectively by hand?!
You need to look for a model that allows you to steer forward, backward, and side to side merely by changing the position and pressure of your foot. But that's only the beginning! Find a model that has an electronic anchoring (sometimes called "spot lock") or a tracking feature that allows you to automatically direct your integrated GPS or fish finder to "retrace" your favorite route.
Finally, a foot control trolling motor isn't much good if you can't force it to operate "continually" and "off and on" by using your feet alone. Sometimes continual power to the motor is best, while other times you want the trolling motor to propel you only when you apply pressure!
Ease of Use and Installation. Kayak fishing accessories can be difficult enough! A foot control trolling motor is one particular piece of kayak fishing gear that should be easy to install and easy to use. Look for a model that comes with only 3 or 4 pieces. The foot control itself, the connector cord, anti-slide footing and possibly a carrying case.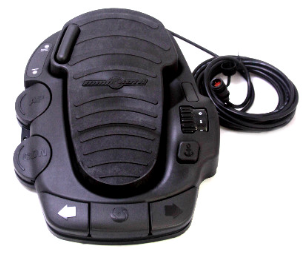 Installation of your foot control trolling motor should take you no more than 5 minutes (once you've picked out a spot, that is). Just locate the foot control in the position where you'd like for it to be (don't worry, you don't have to do this on a permanent basis). Next, connect one end of the connector cable to the foot control and the other end to the trolling motor. Once power is delivered to the unit, you are all set! Anything that takes longer than 5 minutes to install is simply too complicated and ought to be avoided!
Buy the Best Foot Control Trolling Motor
(Commissions Earned)
We have personal experience with the foot control trolling motor that we've linked to above. Again, there are a handful of high quality products on the market, but this one has been particularly impressive to us and has suited our kayak fishing needs very well. This is why it is our favorite foot control trolling motor (at least as of right now)!
The unit has a very sleek design and is only ~3″ in height. This is really nice, as it allows the kayak fisherman to tuck it away into the hull of the kayak without taking up valuable space. It also comes with an 18′ long connector cord which is more than enough length to allow you to be creative in terms of where you decide to mount or locate the foot control. It also includes anti-slide plugs and an enclosed heel. The plugs will keep the unit from sliding around and the enclosed heel will help prevent your foot from slipping off of the foot control in bumpy conditions.
This particular model is compatible with the Minn Kota Terrova (years 2017 and later), which is undoubtedly one of the most popular models of kayak motor on the market. It also features a type of speed control that is "rotary-style" (you can see this on the right side on the image included above). Just roll forward to increase in speed and roll backward to decrease! Of course, you can use the tradition "heel" and "toe" speed control if you'd like, but its nice to have the optionality!
My Experience
Traditionally, any time I have used a kayak with an electric motor, it has been a been one that has been controlled via a handheld throttle. If you aren't familiar with this kind of throttle, you can learn more about it here. While this kind of trolling motor is great (and is arguably the most popular) it does require that you take your hand off of your rod, reel or net to tend to directing your kayak. The foot control trolling motor is a more efficient way of directing your kayak (unless you can fish with your feet)!
I was concerned that the foot control wouldn't have all of the same features as does the more traditional model – I was wrong. I have found that my foot control included identical functionality to its hand controlled cousin. In fact, I have found that using the foot control is actually easier – after all, you control your car with your feet, don't you! The ability to place the foot control wherever I want it is particularly nice. With the handheld models (like you typically see in transom mount trolling motors) you are tied to one location! Not the case with the foot control trolling motor.
FOOT CONTROL TROLLING MOTOR: CONCLUSION
I hope this article has served you as a helpful resource in your effort to learn more about foot control trolling motors. These are one of my favorite pieces of kayak fishing gear! Simply put, they are one accessory the quickly (and easily) makes you a better kayak fisherman. The technology has come so far in terms of functionality. Yes, the foot control trolling motor is now totally indistinguishable from the hand controlled models in terms of its abilities.
If you've read this KFC article and find that you still have questions about whether a foot control trolling motor is right for you, I would like to encourage you to post on the Comments board below. KFC's Comments board is seen by thousands of fellow kayak fishing enthusiasts. It is a great (and free) place to share our collective kayak fishing knowledge for the benefit of this entire community!
Comments
Did you know that you could control your fishing kayak with your feet? Have you ever heard of any of your fellow fishermen using this type of foot controlled trolling motor? Perhaps you have personal experience using one yourself? What did you think about the installation process? Were you able to install it in approximately 5 minutes? What about navigability? Did you find that the foot control performed equally well, if not better than, the more traditional hand controlled trolling motors? Please share your story with us!