HOW TO INSTALL A KAYAK PADDLE HOLDER – INTRO
Installing a kayak paddle holder by yourself can be tricky, and not to mention sloppy if done wrong. Here's a definitive guide on how to install a kayak paddle holder, as well as some buying tips.
Before you begin, if you are NOT familiar with kayak paddle holders, we suggest that you take a look by checking out our Ultimate Guide!
How to install a Kayak Paddle Holder – Overview
Please note: This post contains affiliate links. An affiliate link means that we may earn advertising/referral fees if you make a purchase through our links.
In this guide, I've listed down everything you need to know about kayak paddle holders. For your convenience, I have divided the guide into five sections. This will keep all the information nice and organized for you so you can blaze through the article and get back out onto the water!
The first section covers the basics of kayak paddle holders. You'll get to learn a lot here about kayak paddle holders – what they are, what they are used for, what they are made of, and so on.
Next, I've provided a step-by-step guide on how to install a kayak paddle holder. Don't worry, we list down every step so that we avoid creating any confusion! It's very simple once you get the hang of it – you just need to start off on the right foot!
After that, I have included a buying guide to help you pick out the best paddle holders. You'll find my paddle holder vs. leash comparison here as well. This guide will turn you into a knowledgeable consumer very quickly – you will be able to separate the "top tier" kayak paddle holders from those "other guys" with ease!
Finally, I've linked to my favorite kayak paddle holder. Maybe it's just me, but this is the paddle holder that got the job done. Now, by no means is it the ONLY top quality model – but it is one that did the trick for me and I feel comfortable suggesting that you take a look at it as well!
If you want to hear my experience, read on to the 'My Experience' section. I've summarized my thoughts in a pros and cons format. I like "pro" and "con" lists – I hope you don't think they are too cheesy!
Now enough of that. Let's get started with the guide!
Parts of a Kayak Fishing Paddle
Best Kayak Paddle Holder – Basics
Please Note: As an Amazon Associate, I earn from qualifying purchases.
A kayak paddle holder is as simple as it sounds. It's a clip that you attach onto the rim or hull of your kayak to hold the paddle in one place.
Most paddle holders look and work like pad-eyes. So installation is no rocket science. But a lot of people get confused regarding the drill bit size and where to install the paddle holder itself.
I highly recommend using either a 3/16 or a 3/8 drill bit, depending on whether you have inside access or not. As for where to install the holder, an ideal location would be the very edge of the side of the kayak's hull at a slight angle. In this way, it won't interfere with your downward stroke while paddling!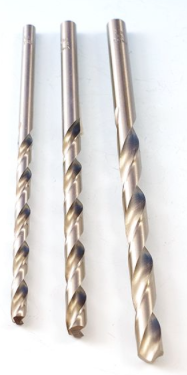 Installation aside, people also get confused about which paddle holder they should buy. And I get it; there isn't much to a simple product like a kayak paddle holder. But the wrong decision can have you swimming in the water to retrieve your paddle!
So be sure to read through the guide thoroughly to get all your questions answered. I can assure you that we've made every effort to address all potential areas of question. However, if we have missed something, please reach out to us and we'll get you an answer pronto!
How to Install a Kayak Paddle Holder
The installation of a kayak paddle can be divided into two types. The first is when you have access to the inside or 'underside' of the rim. And the second one is when you don't. You'll see a difference in the two regarding the hole's size and where each part goes.
So here's how to install a kayak paddle holder, step-by-step:
Gather your paddle holder, well nuts and screws (two for each clip), and your drill bit and drill.
If you have inside access, use a 3/16 drill bit.
Mark where you want to drill (with a Sharpie) and then drill the holes.
Now, place the well nut on the inside and the paddle holder on the outside, such that the holes of the holder, kayak, and well nut align.
Screw-in the paddle holder, making sure that the connection is tight and goes into the well nuts.
If you don't have inside access, use a 3/8 drill bit to make the hole.
Now fill the hole in this order: well nut > paddle holder > screw.
Tighten the screws, making sure that the paddle holder doesn't wobble.
Do not use a silicone sealant to seal the connection, as it will only make the screw slip inside the well nut.
If you want, you can use two holders to secure one paddle. This is a GREAT idea if you have one of the heavier types of paddles (like composite kayak paddles or adjustable kayak paddles)
And you're done! You've now installed your very first kayak paddle holder and it will be with you for many kayak fishing trips to come!
Side Note: If you liked this "how to" guide, you may also benefit from reading our guide on How to Use Kayak Outriggers or How to Install a Kayak Anchor Trolley!
Best Kayak Paddle Holder – Important Features
Material Used:
A majority of paddle holder buyers don't pay close attention to the materials used in their holder. However, it is the material alone that decides how strongly the holder will secure the paddle and how will it will stand up to the elements over the course of time.
The most commonly used material is hard plastic. Plastic is a good choice here as it's lightweight, hard, and is practically water-resistant. The only issue with hard plastic is that the jaws may be too tight. And you'll find it harder to push the paddle in.
Some other kayak paddle holders may use rubber in the jaws, but those are rare. If you ask me, hard plastic can get you by. Do not invest in any metal components. They'll just rust and scrape your fingers. Metal will also "wear out" any type of decorative coating that you have wrapping your kayak paddle's shaft – so be careful!
Included Hardware:
More often than not, all the necessary hardware comes included with your paddle holder. In fact, we STRONGLY suggest that you ONLY consider buying a kayak paddle holder that comes with all of the mounting hardware that you need. Otherwise, you'll need to go to the hardware store!
The hardware typically includes two well nuts and two screws for each paddle holder you order.
As for the drill bits, you'll have to purchase them separately, unless you already have them, of course. You can get a bundle of 7 to 13 drill bits, but make sure it includes the one you need. See the installation section to know which drill bit is right for you.
To make your kayak paddles even more secure, you can use two holders on the same paddle. And this is the way I like to do it too. The weight of the paddle head can sometimes cause the holder to become unstable.
You can get a nifty deal of 4 paddle holders for a reasonable price. You can use two for your main paddle, and two for a spare paddle. It's always a good idea to have a spare at hand. We like to locate one holder on the left side of the kayak and the other on the right side.
Want to learn more? We teach you How to Use a Kayak Brush Gripper and How to Use a Kayak Paddle Holder! These posts are personal favorites of those who are just getting started on their kayak fishing journey!
Why Use A Kayak Paddle Holder?
Now, here are some things to ponder over before you buy your paddle holder. The first thing you should know is why you even need one in the first place. Sure, it secures your paddle to your kayak. But is it necessary?
The short answer is yes, your paddle holder is a must-have – regardless of your level of skill or experience as a kayak fisherman! When you're fishing, you need a place to store the paddle (especially if you are actively reeling your line or are working with your fishing net). If you put it inside the cockpit, it'll just take up space and can even break if you accidentally step on it.
And if you place it on the rim, the paddle can very easily slide off. A kayak paddle holder provides a simple way to store the paddle while saving maximum space in the cockpit. Its truly a no brainer with absolutely no downside!
Another important use of paddle holders is when you're transporting the kayak. The paddles can slide off and fall. A paddle holder secures them so that you can transport the entire kayak with ease. It is kind of like having an extra set of hands, at least in this respect!
Kayak Paddle Holder vs. Kayak Paddle Leash:

One question still stands: what's the difference between a paddle holder and a paddle leash? They perform the same function. So which one should I buy?
Contrary to what you might think, a leash and a holder have entirely different functionality. For one thing, a paddle holder only secures the paddle when you're not using it. A leash, on the other hand, keeps the paddle in place even when you're using it. That is the critical difference, so make sure you remember that when making your purchase decision!
Also, if the paddle does fall in the water, a leash will make retrieval easier. Personally, I'd suggest buying both. They really arent that expensive and, frankly, they may "pay for themselves" over time in terms of paddles saved!
Use the leash to keep it tethered when you're using it. Use the holder to store it when you're not using it. A paddle holder also helps you keep your paddles organized.
Buy The Best Kayak Paddle Holder
If you don't want to do the hard work of choosing a holder, then I suggest you try the model that we have showcased above. It is a set of paddle holders, which includes all of the necessary hardware (excluding drill bits).
But the value of the deal isn't where it all ends. These are my go-to paddle holders for fishing and kayaking. They are made from hard plastic, so you know your paddle won't be slipping out any time soon.
They come with all the necessary hardware included. So you don't have to buy anything separately, save for a 3/16 or a 3/8 drill bit.
This particular kayak paddle holder is compatible with over 6 different brands of kayak paddles. The exact circumference of the paddle isn't mentioned, but I'm assuming it's 1.25 inches to 1.5 inches.
When I use this particular paddle holder, I notice that just one was enough to secure it. It proved to be better in my favor, as the paddle holder is a tad bit too tight. Don't get me wrong here. Tighter is always better. But pushing and pulling the paddle out required an ample amount of effort.
One of the biggest "positive" features of this paddle holder is the low-profile design. The 'jaws' cover a majority of the paddle shaft. But they don't stick out to the point that they interfere with my downstrokes. It is a huge advantage over some fancier models that stab my hands.
My Experience
I tried it out for a few fishing trips and noted any problems I faced.
Surprisingly, there weren't many. Aside from the holder being too tight, I found that it keeps my paddles secured in place. Its a bit of a trade off, I suppose! They don't wobble, and one clipper paddle was enough. So I still had two clips to spare, which I think is great in terms of having a "back up" should something go wrong!
To summarize it all, here's what I think about the showcased paddle holder:
Pros:
Keeps the paddle tightly in place (even with just one).
Simple and straightforward installation (took me ~10 minutes).
Compatible with multiple brands of paddles.
Does not interfere with stroke motion (low profile design).
Does not slip or wobble.
Includes required hardware (no more trips to the hardware store).
Cons:
Too tight (could also be a "pro" – worth noting).
Harder to remove the paddle from.
Conclusion:
And that concludes my kayak paddle holder guide! I hope you found this guide helpful, as I tried my best to provide you with the most general information in terms of EVERYTHING you could possibly want to know about kayak paddles holders!
So what's my recommendation for the best kayak paddle holder? Undoubtedly, the showcased Kayak Paddle Holder is a great choice. I chose this product for its stability and the value of the deal. But you can try some other famous brands as well – just be sure to let us know what you think!
Comments
So what do you think? Did you know anything about this before you learned how to install a kayak paddle holder? These are truly necessary pieces of kayak fishing gear – regardless of a kayak fisherman's level of skill or experience! Perhaps you've worked with the paddle holder that we've showcased above? Maybe another model that you've experienced and enjoyed? Please make sure to share your thoughts and opinions with us by posting in the Comments board below! We read and reply to every comment and love interacting with the kayak fishing community!