HOW TO INSTALL KAYAK PADDLE GRIPS – INTRO
Sitting in the heat with a slippery kayak paddle can be more than just aggravating, it can be dangerous! Allow me to guide you on how to install kayak paddle grips to help you strengthen your hold and make kayak fishing even more fun!
Are you ready to understand why learning how to properly install kayak paddles grips is an important skill for kayak fishermen of any level of skill or experience? Let's do it!!
How to Install Kayak Paddle Grips – Overview:
Please note: This post contains affiliate links. An affiliate link means that we may earn advertising/referral fees if you make a purchase through our links.
There is little to no literature regarding kayak paddle grips, which is why I felt compelled to write this guide on how to buy and install kayak paddle grips. I decided to break this guide up into several sections for the sake of readability. You'll spend less time reading and more time out on the water partaking in your favorite hobby – kayak fishing!!
The first section deals with the basics, such as why YOU need a kayak paddle grip and what you NEED to know about them. In the second section, I've gone over how you can install, use, and maintain kayak paddle grips. This will get you up to speed in a hurry!
After that, you'll see an extensive buying guide that highlights all the important features to look for in paddle grips. Pay close attention here as it'll help you in buying kayak paddle grips. If you find a grip that satisfies each of these important considerations, you can rest assured that you'll be very happy with your purchase!
Finally, I've provided a link to the best kayak paddle grip on today's market, in my opinion. Look, it isn't the ONLY top quality grip on the market, but I have used it personally and know that it is IDEAL for my particular style of paddling!

After that, I've summarized my thoughts in the "My Experience" section along with a bullet list of the pros and cons. This will allow you to quickly glean my opinion and determine whether this might be the right kayak paddle grip for you!
Parts of a Kayak Fishing Paddle
How to Install Kayak Paddle Grips – Basics:
Please Note: As an Amazon Associate, I earn from qualifying purchases.
First things first, why do you even need a kayak paddle grip? I mean, a kayak paddle is supposed to come with a basic grip, right? Countless users opt for paddle grips for a number of reasons!
The foremost benefit of using a kayak paddle grip is that it provides a softer grip – much, much easier on the hands! Kayak paddles are often made from metal that can leave your hands feeling sore. And that's not all! Oil and sweat from your hands can even degrade any protective layer applied on the grip.
A kayak paddle grip prevents this by providing you a soft, comfortable place to hold onto the kayak paddle. It will prevent sores and blisters, allowing you to paddle for longer (and ideally allow you to bring in more fish during your extended period of time on the water)!
The second benefit that these grips give you is that they prevent the paddle from slipping out of your hands. It is quite an interesting feature as the smooth metal of the paddle gets slippery when it gets wet. You can get a good, tacky squeeze into these paddles grips, keeping the paddle from slipping free during a vigorous paddling session!
But buying, installing and using a kayak paddle grip isn't as simple as it seems. You need to consider the type of paddle you have. If your paddle cannot be broken into multiple pieces, then you should go for the Velcro paddle grips. These are less secure, in terms of how "hard" they grip the paddle, but they are the only ones that can be used one one-piece paddle, so keep that in mind!
If, however, your paddle can be divided into multiple pieces (like 2, 3 or even 4 pieces), then go for the slide-on paddle grips. These are designed to shrink and stick when you wet them! Pretty cool technology, huh?!
How to Install Kayak Paddle Grips:
Here's how you should install your kayak paddle grip. Remember, a proper installation is critical because failing to do so will actually make the kayak paddle more trouble than it is worth. So, be sure to follow the general checklist below and to confirm any particulars by referring to your paddle's user's guide!
If you have a one-piece kayak paddle, then buy a paddle grip with a Velcro strap.
Place the grip on the paddle where you hold it from.
Tie it around the paddle with the Velcro strap.
If you don't have a one-piece paddle, then buy a slide-on paddle grip.
Wet the inside of the paddle grip.
Remove the paddle blades and slide the paddle grip on.
Bring it to your regular holding place and let it rest.
The paddle grip will have stuck to the shaft.
To remove it from the shaft, you need to wet the shaft and slide it out.
And that's how you install and use a kayak paddle grip!
If you want to clean the grip, check the manufacturer's instructions on how to do so.
Remember, you need to install the grips so that they align with the desired placement of your hands on the kayak paddle's shaft.
Don't align the grips too closely, or you might feel "crowded".
Don't align the grips too far apart, as you might feel "overextended"
Tip: Make sure you know how to determine the appropriate Kayak Paddle Length for your size and style!
Side Note: If you like this "how to" article, you might also like learning How to Use Kayak Outriggers, How to Install a Kayak Anchor Trolley, or How to Use a Kayak Anchor Trolley!
Kayak Paddle Grips – Important Features:
Size:
The first thing you need to consider is the length of the paddle grip. Your paddle grip should provide you with enough space to hold the paddle comfortably. The ideal length is about 6 to 7 inches. If you have exceptionally larger hands, then consider buying a wider paddle grip.
You should also remember that some paddle grips can be stretched. It allows the grip to be adjusted. But always check the flexibility of the product first. Some aren't as stretchy as others.
Type of Material Used:
Next, you need to consider the type of material used in the grip. Kayak paddle grips usually use two materials: one for the interior and one for the exterior. The best material to use for the interior is neoprene.
Neoprene has tons of benefits. It is water and oil-resistant, doesn't tear, and can stretch up 6 times its original size. Moreover, it can withstand UV exposure, a constant concern when you're paddling under the sun. This material will stick to any metal or fabric, making it an ideal slide-on paddle grip.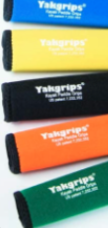 If you want to try any other material, you should look for high durability and a sticking capability.
As for the exterior, any soft fabric will do. Nylon and polyester are two of the best choices here. Nylon is soft and doesn't create any microscopic abrasions on the skin. It's also pretty light and is resistant to tearing and scratching.
If you go for nylon, make sure that it's been treated to be water and UV ray resistant. Nylon isn't naturally outdoor-proof.
Polyester is a more durable choice, but it tends to get pretty hot, and it isn't as soft as nylon. It's also abrasion-resistant and features quick drying. It is also a good choice as it will not interfere with your Kayak Paddle Holder!
Type of Paddle Grip:
You need to take into account the type of paddle you have before you buy a kayak paddle grip. I say this because slide-on grips will definitely not work with one-piece paddles. You can't take the blades apart to slide the grip on. In this case, a grip with a Velcro strap is preferred. You wrap it around the shaft and then secure it with the Velcro.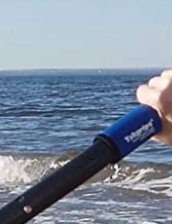 For two, three, and even four-piece kayak paddles, slide-on paddle grips work just fine. You need to wet the inside to allow the neoprene to shrink and stick to the metal shaft (like the shaft of an Aluminum Kayak Paddle). They are more secure than the Velcro ones, as they provide a snugger fit.
Color and Design:
The color and design of the kayak paddle grip is something people overlook. But it can change the game drastically. The brighter and more vibrant the color is, the quicker you'll find the ideal holding position. It also means that your paddle will be more visible in the water in case it falls.
Avoid dark or dull colors. Darker colors, especially black, tend to absorb a lot of heat and get hot, which will feel uncomfortable in the summer. By the way, a side benefit of opting for a brighter color is that you will be more visible to other watercraft on the water, increasing your safety and the safety of those around you. Every little bit helps!
Cleaning and Maintenance:
Finally, consider how easy it is to wash the paddle grip. Kayak paddle grips require cleaning since they absorb a lot of sweat and water (not to mention oil from your hands). For ease of maintenance, go for the grips that dry out quickly. It means they won't accumulate as much sweat.
Most kayak paddle grips can be cleaned using warm water and a mild detergent. Don't use harsh chemicals even on neoprene.
Buy The Best Kayak Paddle Grips:
For Solid Shaft Kayak Paddles
For Multi-Piece Kayak Paddles
If I had to pick out a kayak paddle grip, I would definitely opt for the one that I have showcased for you above. I don't know what it is, but this grip is so soft and comfortable. And I can clean it out with ease owing to the quick-dry feature!
When you use these kayak grips, you'll instantly note how soft and silky smooth it feels. This is due to the soft material used outside. It's been designed to dry out quickly (a very important consideration for kayak fishermen) and provide a non-slip grip. Underneath the fabric, you have a full neoprene body that sticks to the metal of your shaft.
I've already stated the benefits of using neoprene. It can resist just about anything and is the best choice for kayak paddles that take quite the beating.
You get these in a pair of two, and each grip is about 6 inches in length. It gives you sufficient space to adjust your grip and comfortably hold your paddle. As I outlined above, just make sure to install them in locations that allow you to hold your hands comfortably far apart!
More so, these grips use special technology to make the fabric contour to the curve of your palm – high tech engineering in kayak fishing! It provides a more personalized grip that won't slide or slip. And your tendons won't get overstressed, which is a huge relief for people with wrist problems (or those who may suffer from arthritis or similar conditions).
For this reason, the paddle grip shown above is recommended for users of all ages. It's pretty simple to install and uninstall. And cleaning can be done in no time! You can simply wipe the surface with a damp cloth. Or you can use warm water and a mild detergent. I haven't tested it with harsher chemicals like bleach, but I'm assuming it won't put up well. Luckily these things aren't too expensive, but you should take care of the grip by avoiding a bleach wash!
Moving forward, if I had to pick one feature I like the best, it would have to be the quick-drying system! The fabric dried out rapidly, which prevents fungal and bacterial buildup. It is always a concern when your paddle is constantly underwater. It also keeps the fabric from developing any funky smells – you know the ones I am talking about!
My Experience
My experience kayak fishing with the paddle grips I have linked to above has been, for the most part, pleasant. It didn't slip the entire time I used it (I even use the grips on my Floating Kayak Paddle)! In fact, since it needs water to stick to the shaft, I found that with every stroke, the grip just got tighter and tighter.
However, I would not recommend this grip if flexibility is what you're looking for. If your kayak paddle has no raised surfaces, then this is a pretty good find. It can survive just about anything, so that's a plus.
If you want to know more, here are my thoughts summarized.
Pros:
Soft and comfortable grip (great for long hours of kayak fishing)
Make your tendons rest.
It does not allow your grip to slip (gets "stronger" over time).
Simple and easy installation.
Ideal for outdoor use (which, of course, is critical given a kayak fisherman's exposure to the elements).
Lightweight and highly secure.
Cons:
Little to no flexibility (it is designed to affix to your paddle's shaft and act as a grip, nothing more, nothing less).
Conclusion:
So that concludes the guide. I hope that by now you know more about kayak paddle grips than you did before. And I hope that you know how to buy, install, use, and maintain a kayak paddle grip.
As for which grip I recommend, I would highly suggest the Yakgrips Paddle Grip. It is one of the best, largely due to the comfort and security it provides. I did find that it has a lower flexibility index. But everything else is worth the shot!
Comments
Have you tried the out kayak paddle grips before? If so, how has your experience been? Perhaps you've even had some experience with the model we showcase above and you'd like to share your feedback with the group? Let me know all about it in the comment box below! We read and reply to every comment and love interacting with the kayak fishing community!