HOW TO USE A KAYAK PADDLE HOLDER – INTRO
Whether you are out for a paddling adventure or kayak fishing, you might come across a time when you have to put your kayak paddle down. This is the case, for example, when you need both hands on the rod and reel to bring in a big catch! In this guide, I'll guide you on how to use a kayak paddle holder, so you don't lose it when you need it.
Never heard of a kayak paddle holder? Start by reading about them on our Ultimate Guide!
How to Use a Kayak Paddle Holder – Overview
Please note: This post contains affiliate links. An affiliate link means that we may earn advertising/referral fees if you make a purchase through our links.
I have divided this post into several sections so that the information is easy to follow. You don't have to go through the entire article to get to what you want to know. Just get straight to the point by sifting through the information that you need – the faster you get your information, the faster you can get out on the water!
Firstl, I've included a section containing all the basic information about kayak paddle holders – what they are, what they are used for, what they look like, how they work, what they are built of, and so on.
I have also included a section that details all of the important features that you'll want to look for in any quality kayak paddle holder. If you memorize this list, you'll be able to separate the "good" kayak paddle holders from the "bad" with ease – and you'll be much happier with your ultimate purchase decision!
Next, there is a section covering how to use a kayak paddle holder – this is in a "checklist" format so that it can serve as a quick and convenient reference. For your further information, I've also included the link to my favorite kayak paddle holder. By no means is my favorite model the ONLY top quality model, but it is one that I feel comfortable with and I suspect that most of the KFC readers will be happy with its performance as well!
In the following text, I'll review this particular kayak paddle holder more thoroughly, and provide you with a list of its merits and demerits. You can find all these details in the My Experience section.
Ok, enough chit chat, let's get down to business!
Parts of a Kayak Fishing Paddle
How to Use a Kayak Paddle Holder – Basics
Please Note: As an Amazon Associate, I earn from qualifying purchases.
A kayak paddle holder is used to keep your kayak paddle in place – nestled immediately next to the hull of your kayak for quick access and easy storage. You don't have to drop your paddle into the water, it will remain attached to your kayak!
This means that you don't have to hold the paddle the whole time while you are on the water! It essentially keeps your hands free at all times, and you can focus on catching some fish, taking some photos, or doing whatever that you need to do.
Moreover, you can conveniently transport your kayak and paddle at the same time, because your paddle will be safely adjoined to the kayak (by placement in the kayak paddle holder). Its like getting a two for one, or a second pair of hands!
Installing it on your kayak is no big deal, either. And you don't need any experience to install or use it (you don't need any "special" tools either). There are different types of kayak paddle holders available on the market, and they all appear different.
However, they aren't different in their functions. Most of them are made of hard plastic, but some are made of aluminum. The high-end kayak paddle holders are also made of carbon fiber.
How to Use a Kayak Paddle Holder?
Ah, the age old question! You know that you are interested in getting one of these awesome pieces of kayak fishing gear, but you don't know how to use it! Using a kayak paddle holder is not a big issue at all!! Here are some steps that you should take before you take it out on your kayak fishing excursion:
Unbox your package and take your new kayak paddle holder out of its packing.
Locate the kayak paddle holder and all its components.
There will be a paddle holder along with a couple of bolts for securing it to the kayak.
In most cases, the bolts will go through the holder and into your kayak.
Just make a couple of holes in your kayak on one side after taking proper measurements.
Make sure the holes are present in a position that is comfortable for you to use.
Place the paddle holder on the kayak's edge and screw in the bolts.
After you have installed the holder on your kayak, it's time to fit in the kayak paddle.
Make sure to try it out on dry land before you take it out in the water.
After being comfortable using it, it's time to take it out in the water.
You don't even have to take it off from your kayak.
Just wipe it clean with a damp cloth.
Side Note: Did you like learning how to use a kayak paddle holder? You might also be interested in learning how to use kayak outriggers or how to use a kayak brush gripper!
Best Kayak Paddle Holder – Important Features
Design and Construction
When we talk about the design and construction of a paddle holder, there are plenty of different "styles" that you commonly see on the water. But not all of them work in the same manner! Some of them are ergonomic in various aspects, while others are straight forward to install but slightly less user friendly. Most of the holders come with a double bolt construction where you only need to screw in a couple of bolts to keep the holder in place.
The swiveling movement of these holders allows you to move the paddle freely in any direction. Some of them only have a gap to keep your paddle and don't have a holder for you to place your paddle. Still, others feature hooks where you can put the loop that can be there on your paddle. Just make sure that the design is very easy to use, and it doesn't interfere with your paddling motions.
Materials
There are not many options available here because the manufacturers use plastic or aluminum for the construction of these holders. Both of these kinds of materials are "easy" to work with, for the manufacturers, so that is why you see a wide variety of relatively inexpensive kayak paddle holders on the market today!
The hard plastic is the best option if you are looking for a lightweight holder. It is good enough to maintain and a breeze in terms of cleaning and maintenance. It is better to go for hard plastic because it won't damage your paddle either.
Easy to Install
Go for an easy to install paddle holder. You'd be amazed how many people overlook this! The bolts shouldn't go into a hard-to-reach area as that will almost surely make them more difficult to install and will also likely lead to your paddle being located in an inconvenient area! Easy installation means you can remove the holder as you desire!
Most of the holders come with a couple of bolts that are positioned in a line. Bigger holders come with more bolts that you need to screw in and cover more space. Therefore, choose a holder according to your kayak and paddle size.
Transportation and Storage
Kayak paddle holders are also good to use when you are looking to store or transport your kayak from one place to another. Therefore, it could have a construction that allows you to use the swivel movement and get the paddle parallel to your kayak.
This way, you can save more space when storing or transporting. It is better to go with such a kayak paddle holder if you can find one that suits your other needs.
Compatibility
It needs to be compatible with your kayak's design and that of your paddle as well. If it is not the right size, you shouldn't buy it. Kayaks have different surfaces and sides, and you should be able to install your holder with ease. Therefore, pick your choice with care.
You should also be mindful of your kayak paddle's weight. Do you have a heavier kayak paddle (like a carbon fiber kayak paddle)? You might need two or more kayak paddle holders to supports its weight and length. Do you have a lightweight kayak paddle? You'll likely be able to support it with just one kayak paddle holder (if you buy a high quality model, that is)!
While you are here, consider whether the Best Kayak Paddle for the Money could fit within your kayak fishing budget (just make sure to protect it with the Best Kayak Paddle Leash)!
Buy the Best Kayak Paddle Holder
The kayak paddle holder shown above is the best one in all regards (at least in the humble opinion of your KFC host, that is). It is compatible with several kayaks from different brands. It can work with Perception, Emotion, Pelican, Malibu, and Vibe kayaks – this covers a large majority of some the most popular kayak fishing models!
In the following text, I'm going to add a bit of detail about how you can use it in light of the points that I've mentioned in the important features section. Don't worry, between the "important features" and the information we include below, you'll be a pro in no time!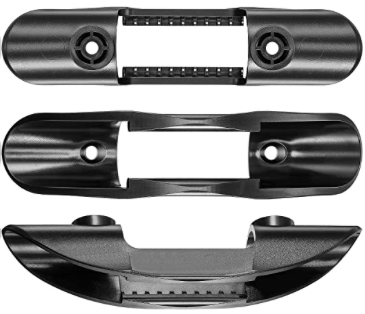 First of all, this kayak paddle holder is VERY easy to install as it comes with a couple of bolts that you must screw-in. The positions of these bolts are in-line and right in the middle. It means that you can easily use this particular holder while paddling (e.g.: the holder doesn't get in the way of your strokes). There is not much difficulty in using it while making those motions – a very important consideration for kayak fishermen of any level of skill or ability.
Apart from that, it is made of hard plastic. The manufacturer has made sure that this material doesn't wear with time, as the holder is going to be exposed to various elements (and is often exposed to constant wet conditions). The size of the holder is a bit on the smaller side, though. It doesn't have enough room for paddles that have thicker shafts. Therefore, you need to check the compatibility of this holder with your paddle if you, like I, have a thicker shaft than the average kayak fisherman!
My Experience
My experience with this kayak paddle holder has been excellent so far (and I have put it through some pretty heavy use). Once I got the right size paddle for it (shaft wise), the holder performed quite well. As I have mentioned that it is not designed to hold paddles with thicker shafts, so larger paddles are not the right options to work with – just something to be aware of.
It has a very sturdy construction, and the two-bolt construction makes sure that it works with most kayaks. The swiveling action is there, and it is very ergonomic. The holder is pretty decent when it comes to storage and transportation too.
One thing that impressed me was its material. The hard plastic is very tough, and it is designed to take a a pretty good beating without falling apart on you. I was not expecting it to be so durable, but it turned out to be very stiff, just like my shaft. A stiff shaft and a stiff holder usually go well together, since it keeps the paddle from flopping about in choppy conditions. If you are an active kayak fisherman (2-3 trips per week), then this holder will work very well for you!
You can easily leave your paddle safely nestled into its holder and shift your focus to your catch when you are out there on the water. We all know that there are times when you need to make a sudden move. And if you leave your paddle to make that move, the holder will keep it in place. No dropping into water or making a sound that might result in scaring the fish away!
Pros
The hard plastic is very stiff and can handle elements (great durability).
Two in-line bolts make it compatible with most kayaks.
Effortless installation (took me a little less than ten minutes).
Lightweight construction.
The holder is resistive to corrosion and damage.
Cons
Not designed for larger paddles (i.e.: thicker shafts).
Conclusion:
You can see why I'd say that the best kayak paddle holder is the one showcased above. If you are just now beginning to learn how to use a kayak paddle holder, this is a GREAT starter model for you. It is effortless to use and has a lightweight construction.
It is compatible with several kayaks from different brands, and it is resistant to corrosion and damage. Furthermore, it has all the features that a good quality kayak paddle holder needs to have, and that is what I highly recommend it.
Just be sure to check the compatibility of your kayak paddle holder before you finalize your purchase. I had to use a different paddle to work with this holder because it is not designed to hold paddles with shafts of larger diameter. Keep this point in mind before you choose it to be your kayak paddle holder. The rest is all A-okay and I suspect that you'll be very pleased with your buy!
Comments
Did you know how to use a kayak paddle holder before you read this article? They appear to be easy to use, and they are, but you DO need to learn some of the basics before you set out onto the water! Have you tried out our showcased model? Perhaps you use a different brand? We'd LOVE for you to write in to KFC and share your experiences with us! We read and reply to every comment and truly treasure our interactions with the kayak fishing community! Be safe out there!!