Kayak Beach Trolley: Intro
KFC encourages its readers to venture to all different bodies of water to try out a variety of kayak fishing experiences. Most of our readers tend to visit traditional lakes for their kayak fishing outings. Recently, however, many have written in suggesting that they have experimented with kayak fishing on mountain streams, alpine lakes, slow moving rivers, and even on salt water bayous and oceans. Some of these readers expressed frustration with how poorly their kayak trolley managed the terrain of a sandy beach, and requested that we research to find the very best Kayak Beach Trolley.
The results of that search are included in this Kayak Beach Trolley post. We hope you enjoy reading it as much as KFC's team has enjoyed writing it, and before you dig in, we would recommend that you read through our Kayak Trolley Ultimate Guide, where we have posted an all encompassing write up on all things kayak trolley.
UNBIASED REVIEW
First, as an Amazon Associate, I earn from qualifying purchases.
All KayakFishingCorner.com reviews, including this post on the Kayak Beach Trolley, are centered around KFC's own independent research and analysis. KFC has amassed the industry knowledge necessary to evaluate all different types of kayak fishing equipment and gear.
KFC's writers promise to never write biased feedback or reviews. KFC's analyses and opinions are completely free from third party influence. At KFC, earning and keeping the trust of the kayak fishing community is the primary goal.
Parts of a Kayak Trolley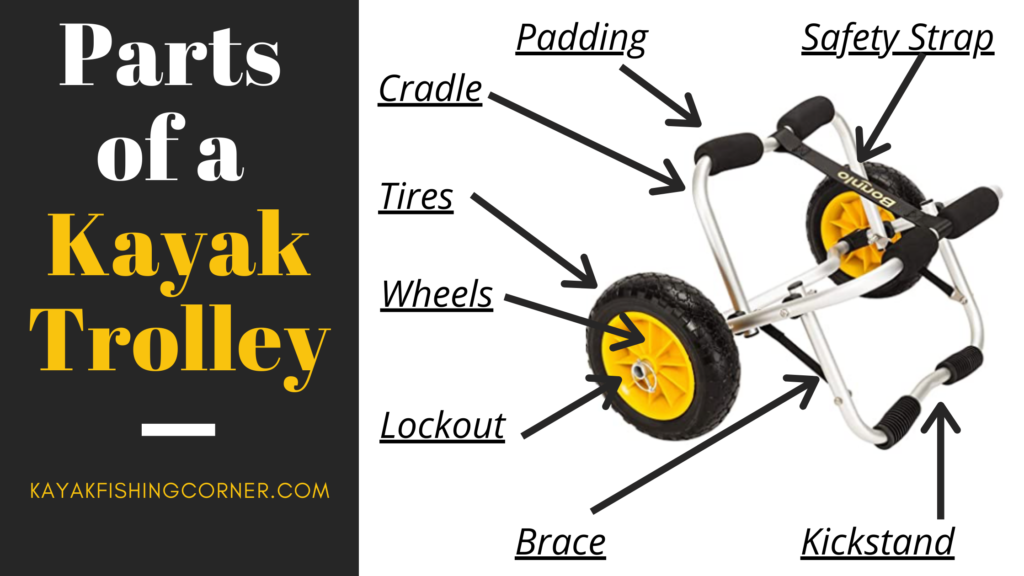 Kayak Beach Trolley: Introduction
Please note: This post contains affiliate links. An affiliate link means that we may earn advertising/referral fees if you make a purchase through our links.
By now you've learned that there are many different types of kayak trolleys that can be used for kayak fishing. There is the Sit On Top Kayak Trolley and the associated Sit In Kayak Trolley, each of which are designed for moving your fishing kayak over a variety of surfaces.
There is also the Standard Kayak Trolley, which is designed to suit the needs of the "all around" kayak fisherman. All of these different kinds of kayak trolleys are great for the purposes for which they are built. The problem is, most of these kayak trolleys are constructed to handle rough and compact surfaces, like rock pathways and gravel roads. Few of them are well suited to manage the soft sands encountered on the way to a kayak fishing outing on the ocean. This is a problem perfectly solved by the Kayak Beach Trolley highlighted in this KFC article.
My Experience
I was stuck. Well, basically stuck. I had navigated the rocky pathway all the way to the beach front with ease, but I hadn't planned for the last 100 or so yards down to the shoreline.
The kayak trolley was my only solution. But not just any kayak trolley, I needed the Kayak Beach Trolley, and the kayak trolley depicted above was perfect for my ocean centered kayak fishing needs. As you'll see below, the Kayak Beach Trolley is built with an entirely unique wheel system. The wheels are literally low pressure balloon tires, which make traversing the softest of sand, even with the heaviest of fishing kayak loads, totally manageable! What a life saver! Let's take a look at this unique feature below.
Best for the Beach
(Commissions Earned)
Balloon Wheels
Look closely at the design of the wheels of the Kayak Beach Trolley. You can see how much wider these wheels are than the wheels of a traditional kayak trolley. In fact, measuring ~13 inches in diameter, and ~7 inches in width, they are nearly twice as big as the "normal" kayak trolley wheels.
This is critical as it allows for the weight of the fishing kayak to be dispersed over a wider surface area, thus reducing any sinking into the sand. This is the exact same concept as snow shoeing:
Don't worry about the name "balloon", as these tires aren't going to "pop" under normal, or even heavy, usage. These aren't your traditional latex type balloon material.
The wheels are specifically built for the outdoors, and not only the outdoors, they are built for the sand. They can manage a 165 pound weighted load capacity! Simply put, these wheels aren't going to leave you stuck in the sand.
Storage
Perhaps it is an addiction at this point. Over time, I have amassed so much kayak fishing gear that it is beginning to crowd out my other household materials and supplies. For that reason, I have begun to place a premium on any piece of kayak fishing gear that can be broken down or collapsed into a more convenient size. The Kayak Beach Trolley does just that.
Its just like the collapsable sphere toy you used to see at schools and science fairs! Just like the toy sphere, the Kayak Beach Trolley is simple to assemble requiring no specialized tools.
Simply break it down for easy and convenient storage in your trunk or closet, and snap it right back into shape when you are ready to transport your fishing kayak to the beach. It really is that easy!
Durability
KFC places durability among the most valued of any feature, and this Kayak Beach Trolley has been constructed with durability at the forefront. We have selected the above picture to give you a close up look at the quality of manufacturing that has gone into this kayak fishing trolley.
The frame is nice and wide, with measurements indicated above. The manufacturer has included a 10 inch spring loaded "kick stand" for purposes of keeping the Kayak Beach Trolley level when loading and unloading.
Oh, and by the way, don't let the featured kickstand concern you about getting in your way. Once you are ready to get moving, you simply move the kickstand up and out of the way. There are no special tools or extra pieces of equipment needed. It truly is an included accessory that comes with absolutely no downside!
Pro Tip: If you are here, you are serious about adding to your comfort in your kayak fishing trips. You need to take a look at Kayak Paddle Grips to determine if they could help you have a more enjoyable time! We have even shared our opinion on the Best Kayak Paddle Grips on today's market!
Kayak Beach Trolley: Conclusion
Kayak trolleys come in so many different shapes and sizes, and each is certain to offer its own advantages. That said, if you are looking to take your kayak fishing experience to the high seas, you need to put serious consideration into buying a Kayak Beach Trolley. Fishing kayaks are very heavy pieces of equipment. The weight alone will drive the wheels of a traditional kayak trolley into the sand, leaving you stuck at the beach instead of out on the water!
Simply put, with our Kayak Beach Trolley suggestion, you are assured that you are getting a kayak trolley with all the right features and qualities to ensure a successful navigation across the sandiest of beaches. Its durability, efficient design, wide "balloon wheel" base, and don't forget the kickstand, all make for a very formidable kayak trolley. One that will surely stand up to the softest of sand and the tightest of closet space! Still not convinced? Check out the Top 5 Reasons to Buy a Kayak Trolley! Need a break from fishing from inside the kayak, learn more about surf fishing and see if its right for you!
Can't get away from the desire to kayak fish at the beach? Check out one of our favorite destinations for ocean kayak fishing, here!
Comments
Do you have any questions regarding KFC's Kayak Beach Trolley article or kayak fishing in general? Please share with the rest of the KayakFishingCorner community by posting in the Comments section below.