KAYAK MOTOR: INTRO
One of our favorite pieces of kayak fishing gear has to be the kayak motor. Didn't know a kayak could have a motor? Well, it can, and boy is it worth it! Before you get started learning all about what it can do for you, we suggest that you take a look at our Kayak Trolling Motor Ultimate Guide, where we've written an all encompassing educational guide!
We have even ranked The 5 Best Kayak Trolling Motors! Once you've become an expert, its time to dive into the specifics of the kayak motor. Let's get started!
Kayak Motor: Guide
First, as an Amazon Associate, I earn from qualifying purchases.
KayakFishingCorner.com desired to write a post to serve as an educational guide about the kayak motor. After all, it is one piece of kayak fishing gear that is lacking in terms of familiarity among the kayak fishing community. To make sure we keep this article's content organized in an easy to follow style, we've divided this post into a number of categories. We start by going over some of the basics before getting into a short and easy to use guide about how to use a kayak motor on a fishing kayak of your own.
After that, we talk about some of the important features that you'll want to find in the kayak motor that you decide to purchase. At this point, you'll be an expert and may want to learn more about some of our favorite models. We have included a link to one type of kayak motor that we have personal experience with (we use it on a couple of our own kayaks) and have included a link to its product page so that you can access a greater source of information about this particular kayak motor. Finally, we've included a short summary of our own experience. Hopefully you can learn from some of our failures! Let's dig in!
The Basics
Please note: This post contains affiliate links. An affiliate link means that we may earn advertising/referral fees if you make a purchase through our links.
When you hear the term "kayak motor" more often than not the person will be referring to a kayak "trolling" motor. This type of kayak motor is simply a small motor that is attached to the bow or transom of a fishing kayak.
Typically, kayak motors are described in terms of how many pounds of thrust they can create. A smaller model might create 25 pounds of thrust, where a larger model might create 60 pounds of thrust (or even more)! Remember, trolling motors are going to be available at even higher levels but, for kayak fishing purposes, you'll want to stay somewhere in the 25 – 60 pound range. Anything higher is unnecessary given the size and weight of the kayak, and may even cause damage to your hull!
The kayak motor is comprised of three basic parts (shown in the image above). First is the throttle and head where your speed is controlled and your sensors (and displays) are housed. The second is the shaft, the piece that connects the head to the propeller and motor itself. Last, of course, is the kayak motor or propeller. This is always the bottom part of the assembly and it will remain in the water at all times when the kayak fisherman is desiring to propel his or her kayak by the kayak motor.
Kayak Motor: How to Use Properly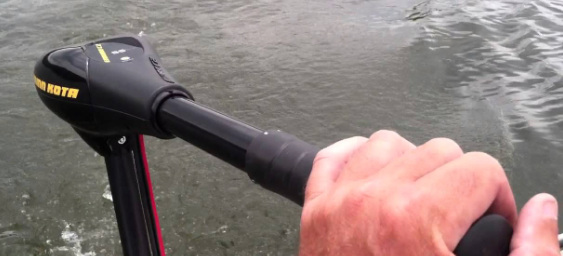 Having a kayak motor isn't going to do you much good if you don't know how to properly install it and use it. The short list below will serve as a useful guide for walking you through the basics of installation and use of a kayak motor. Remember, if you have any questions before you venture out onto the water, be sure to post in the Comments section below and we'll see if the team at KFC or any other member of this kayak fishing community can help you out!
Begin by deciding where you want to install your kayak motor.
While installation doesn't have to be permanent, it is quite a pain to move it to a different location at a later date, so pick right the first time!
We like to locate the kayak motor adjacent to the seat, such that the throttle is located near the arm with which we want to direct the kayak.
After you've decided where you want to locate the kayak motor, connect a kayak trolling motor mount to the hull of your kayak. The motor mount will serve as as solid base to which your kayak motor can be connected.
Adjust the screw tight clamp to the motor mount. Remember, the movement of the kayak through the water will put force upon your equipment, so be sure to securely tighten the clamp and test the connection by vigorously pulling forward and backward.
At this point your kayak motor should be safely affixed to the kayak motor mount and thus to the hull of your fishing kayak. Now it is time to move your boat to the water (for purposes of keeping this article concise, we will not be addressing the process of connecting the kayak motor to the kayak trolling motor battery).
Once safely connected to the power source, you'll want to gently turn the handle at the head (also known as the throttle).
If you have ever ridden a dirt bike or motorcycle, the throttle turns in a very similar fashion, though the motor will turn much more slowly!
Be sure to master your forward, backward, and side to side directional skill set before taking your kayak out onto the water. Remember, to turn left, you'll want to push the handle to the right (and vice versa)!
That's it! You know how to properly install and use a kayak motor! Now you can focus on navigating your kayak to your favorite fishing hole!
Kayak Motor: Important Features
There are tons and tons of kayak motors on the market. How do you know which is best for your particular purposes? Well, while every kayak fisherman's needs are going to differ somewhat from the next person's, there are some very important features that you'll want to be sure your model contains.
Mounting Bracket. Shown above, the mounting bracket is the piece included on the motor itself that connects to the mounting plate. Without a mounting bracket, a mounting plate isn't going to do you much good. It is absolutely critical that your mounting bracket be the type that "screws down" (as opposed to those that "rest" or "clamp" on the mounting plate). It is our experience that "rest" or "clamp" style mounting brackets weaken and loosen over time, thus jeopardizing the connection of the kayak motor to the kayak itself. A "screw down" mounting bracket can be tightened and customized at any time!
Composite Shaft. Looking above, you can see that the kayak motor is a pretty lengthy piece of kayak fishing gear. The greater the length, the more susceptible the equipment is to bending or snapping – both very bad results! High quality kayak motor manufacturers will use a composite shaft that will flex (rather than bending or snapping). This is very important, as your equipment will invariably be subjected to pressure as you move through the waves and water. Too rigid, and you risk experiencing a snapped shaft! Too flexible, and you risk a bent shaft such that your motor will never correctly function again! A model with a composite shaft is truly the perfect middle ground!
Quality Propeller and Housing. This is where the rubber meets the road (at least so to speak)! The propeller is the piece at the end of the motor that actually turns to create thrust and move you forward (or backward). The propeller is connected to the motor which is housed within protective casing. It is very important that your casing and propeller be made of metal, composite, or very hard plastic. Why? Kayak fisherman are notorious for chasing a school of fish into the shallows. After all, thats where some of the best fishing is!
Whether you are in shallow water or not, the risk of running into rocks, trees, debris or even the ground, are very real concerns! Breaking a housing or snapping a propeller could lead to a very labor intensive paddle back to shore (not to mention setting you back hundreds of dollars for repair or replacement). Be sure to find a kayak motor that can withstand the rigors of kayak fishing use – you'll come out ahead if you do! Learn how propellers work here!
Buy the Best Kayak Motor
(Commissions Earned)
The kayak motor linked to above is one of our absolute favorites. It seems that the manufacture built this particular model specifically for kayak fishing. It has an ergonomically designed 6″ wide throttle grip which is telescopic (meaning that it is designed with tubular pieces that slide into one another to create length control) to provide you with maximum versatility.
It delivers 55 pounds of thrust, which is more than enough to appropriately power fishing kayaks of all different shapes and sizes, even tandem kayaks! Also, it is available in shaft lengths measuring 36″ and 42″, so you can make sure that your kayak motor's length is appropriate for your kayak fishing style.
Weighing in at approximately 25 – 30 pounds, this model is easy to install and won't cause a tipping of your kayak to the side upon which it is mounted. This relatively light weight is due to the use of a composite, rather than metal, shaft. Recall that a composite shaft is perfect for the rigors of kayak fishing! Be careful, however, as this kayak motor is designed for fresh water only.
My Experience
I was hesitant to buy a kayak motor when I first got into the sport of kayak fishing. I felt like the technology would take away from the serenity of the sport. My concerns quickly proved to be misguided, however, as I quickly fell in love with the convenience that the product provided to me. Most importantly, to me at least, is that the unit runs quite quietly. This motor is nothing like its loud, gas powered cousins that can easily detract from the natural beauty of the water!
Perhaps most surprising of all is that the product actually made me a better kayak fisherman! I have a number of theories as to why this could be, but I think it is most likely that the kayak motor reduced the fatigue I otherwise felt after a long day of paddling from location to location. Of course, the less fatigue meant the longer I could stay on the water. Also, I was able to fish more spots than I otherwise would have been able to, because the kayak motor is simply a more expeditious way to get from one spot to the next. Longer time on the water combined with more locations fisher equals better results!
KAYAK MOTOR: CONCLUSION
I hope this kayak motor article by KFC has proven to be an educational resource for you. If you have made it to this point and find that you still have questions about kayak motors, please be sure to comment in the Comments section below. Even if we don't know the answer to your question (which is unlikely), we suspect that one of the thousands of other knowledgable KFC readers will be happy to jump in to help!
I sincerely hope that you decide to use one of these awesome pieces of kayak fishing gear in your own kayak fishing outings. Remember, there are many great models to choose from, just make sure you keep the important features in mind! If you want to skip the research and instead rely upon our own experiences, then the model linked to earlier in this post would be a great bet!
Have you ever thought about competing in a kayak fishing tournament? We have linked to a great resource on these events, here!
Comments
Did you know that these type of motors existed? Have you ever used one during a kayak fishing outing? What side did you locate it on? Did you find that it was easy to use? Would you like to share any tips and tricks with this kayak fishing community? Please be sure to post below. We love serving as a messaging board for the betterment of kayak fishermen of all levels of skill and experience! See you on the water!