KAYAK TROLLEY INTRO
While the term "Kayak Trolley" may be unfamiliar to those of you who are relatively new to kayak fishing, let KFC assure you that this family of products is one that you ought to become familiar with very early on, and that's why we have written this Kayak Trolley Ultimate Guide. At its very most basic definition, a trolley is a piece of kayak fishing gear used to aide a kayak fisherman in transporting a fishing kayak by hand.
KAYAK TROLLEY ULTIMATE GUIDE
First, as an Amazon Associate, I earn from qualifying purchases.
KayakFishingCorner.com has spent years researching the trolley. In this Kayak Trolley Ultimate Guide, KFC has listed each of the important details and features of a desirable model. We've divided these important details and features down into important categories, including trolley basics, trolley designs, and which model is right for you. We also include a link to one of our favorite types of trolley toward the end of this guide!
Trolley products always involve the balancing or attachment of a fishing kayak upon a frame and wheels, often functioning as a type of simple machinery known as a "lever". While the placement of the trolley under the fishing kayak may very from middle, towards the rear, or all the way at the end of the fishing kayak, the principle is the same: To assist the kayak fisherman in transporting his or her fishing kayak in an efficient and comfortable manner.
KFC always suggests that its readers put serious consideration into purchasing a trolley along with the initial purchase of a fishing kayak. Most are priced very reasonably, and their impact upon the kayak fisherman in terms of the level of comfort and enjoyment provided makes the trolley a wise investment, and results in a positive experience in initial outings. Don't struggle with the weight of your fishing kayak while trying to transport it by hand, let the trolley do the work for you, KFC is sure that one of the models showcased below is certain to meet your needs!
Parts of a Kayak Trolley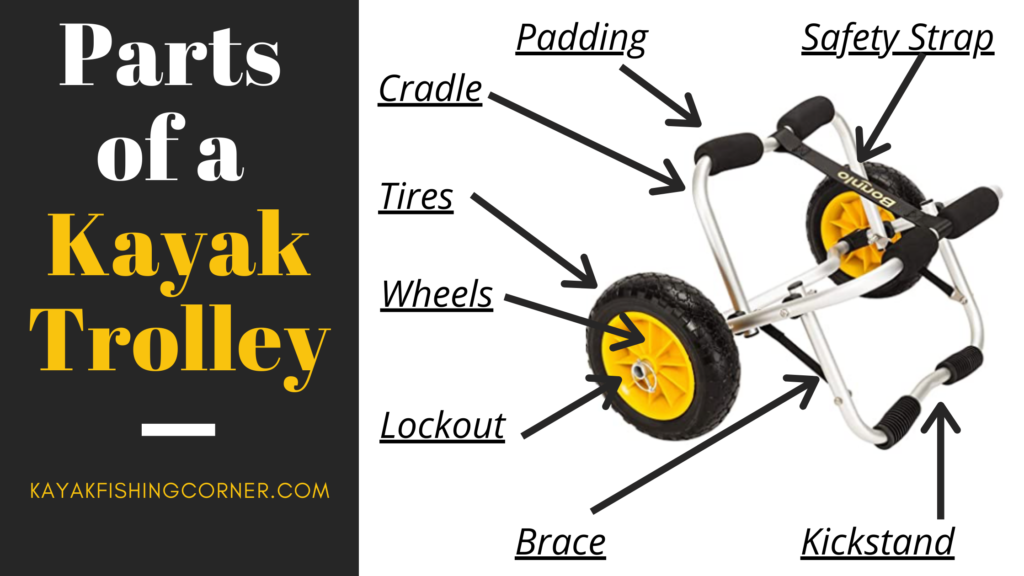 Basics
Please note: This post contains affiliate links. An affiliate link means that we may earn advertising/referral fees if you make a purchase through our links.
What is a kayak trolley? It is a piece of kayak fishing gear used to assist a kayak fisherman in transporting a fishing kayak by hand. Trolley products always involve the balancing or attachment of a fishing kayak to the trolley's frame, which sits atop the products wheels. Take a look at a basic example of a trolley located underneath a fishing kayak below:
Let's face it, fishing kayaks are irregularly shaped, heavy, quite long, and are typically devoid of easy places upon which you can get a good grip. Also, recall that kayak fishing destinations often require the transportation of the fishing kayak along uneven walkways, rocky paths, sandy passages and other areas upon which the unassisted transportation of a fishing kayak can be quite dangerous.
It is for this very purpose that the trolley was invented, and wow what a life saver is has become! Over time, and due to the rapidly increasing popularity of kayak fishing over the last several years, trolley products have begun to become available on the market with greater and greater prevalence. This increased availability has led to an increase in diversity of designs, as well as a decrease in the cost required to get a high quality trolley.
How to Use a Kayak Trolley
Assemble the trolley into its transportation mode per the trolley instructions.
Visually inspect the moving pieces to make sure that the connections are tight, the bolts sound, and the components are in good working order.
Safely lower your fishing kayak and rest it upon the trolley.
Adjust the position of the fishing kayak to find the appropriate distribution of weight. This is best accomplished by moving the hull over the center of the trolley.
Maneuver the straps around the fishing kayak, ensuring that they aren't tangled or crossed with one another.
Tighten the kayak straps by tension, ratchets or elasticity.
Confirm that the fishing kayak is safely attached to the trolley by pulling and pushing the kayak from front to back. Also rocking the trolley from side to side.
It is OK if the fishing kayak moves slightly, but only just an inch or so, before it returns to its original resting point. If the kayak moves farther than an inch, check the kayak's weight distribution and the tension of the kayak straps.
After the kayak is secured to the trolley, and all of the components are found to be in good working order, you can use you trolley to navigate to the lake or ocean!
Sit In vs. Sit on Top Kayak Trolleys
Sit-On-Top vs. Sit-In. Among the variety of trolley offerings on the market, there is one major distinction, and this distinction relates to whether your fishing kayak is a "Sit on Top" fishing kayak or a "Sit In" fishing kayak. Sit on Top fishing kayaks are equipped with what are known as "scupper" holes. Scupper holes are essentially intentional holes built into the hull of the fishing kayak which allow for water that may have splashed into the fishing kayak to be adequately drained out:
Aside from being a handy feature for the drainage of unwanted water, scupper holes serve as a point of attachment for trolley products that have been specifically designed for integration into the scupper hole. The attachment of the fishing kayak via its scupper holes to the trolley is perhaps the most "stable" of all means of transportation by hand, though you'll need to make sure that your fishing kayak's scupper holes align with the attachment prongs of your trolley (many are adjustable, as we explain below):
Of course, "Sit In" fishing kayaks have their own fair share of trolley products. A trolley for a Sit-In fishing kayak is typically comprised of two wheels and a platform, similar to what you see above, but without the attachment prongs. Instead, the fishing kayak is anchored to the product by a velcro or ratcheting strap, which oftentimes is included straight from the manufacturer. An example of a model for a Sit-In trolley is below:
Ok, so now you've become familiar with the distinction between trolley products for Sit-On-Top fishing kayaks and Sit-In fishing kayaks, what else is an important feature to find in a trolley? It seems there can be so much to learn about kayak fishing, not to mention all of the gear and accessories that go along with the sport. Where do we begin?
Confused? Don't be. Let's walk through KFC's important features found on the Kayak Trolley Ultimate Guide. Let's start with an easy one, since we already learned about it above. We'll call this the "method of attachment". Remember, if you have a Sit-On-Top fishing kayak, you will want to be sure to purchase a sit-on-top trolley that aligns with your fishing kayak's scupper holes.
If you have a Sit-In fishing kayak, you are almost certainly not going to have scupper holes by which to attach your fishing kayak to your trolley. Have no fear, attachment for the sit-in fishing kayak is accomplished similarly to the sculler hole concept by using heavy duty ratcheting straps. One benefit of this particular style is that the trolley can be moved up and down the hull of the fishing kayak to the point of attachment of your preference.
The sit-in model depicted above provides a good illustration of both the attachment straps and the padded cradle into which the hull of the fishing kayak comfortably sits.
Kayak Trolley Wheels
Enough about attachment points. What else has KayakFishingCorner deemed noteworthy in compiling this Kayak Trolley Ultimate Guide article? Well, perhaps you've noticed in the products we've highlighted above, nearly every kayak trolley will come with two wheels, and these wheels are often times quite large!
Wheel size on a trolley is important because the size of the wheel is going to determine what kind of terrain your kayak trolley can comfortably handle. You'll want to avoid a kayak trolley that has wheels on the smaller side unless you are certain you'll only be traveling on less difficult access paths. Similarly, the width of the wheel of the kayak trolley is critical.
Do not make the mistake of buying a kayak trolley with narrow wheels. Narrow wheels are notorious for digging into soft earth, sand, or gravel, and will make pushing or pulling the kayak trolley much more difficult. Get a kayak trolley that has nice, wide, stable wheels that will comfortably displace the weight of the fishing kayak and will comfortably traverse across any number of surfaces.
But what if your kayak fishing adventures routinely require you to navigate over soft sand? Such is the case for KFC readers who predominantly take their kayak fishing addiction to the high seas. Luckily, there are kayak trolley products on the market for you as well. Take a look at the above!
Beach Kayak Trolley
Notice how the wheels on this trolley differ from the more traditional wheels featured on the trolley products depicted above? This trolley manufacturer built its frame around wheels specifically designed to traverse a sandy beach with ease.
Regardless of the type of terrain you are traveling, the wheels of your trolley are critical, as they are the base upon which the rest of your load will sit.
Kayak Trolley Strength
Speaking of wheel strength, KFC has specifically included frame strength in this guide as an additional important feature. Take a quick look at the below, contemplate the amount of weight that will be applied against the frame of the trolley:
In our research in compiling this guide, KFC encountered a number of products that featured frames built of plastic rather than metal. Please, please do not purchase a trolley constructed of anything other than metal. There is only one exception to this rule, in a trolley first featured above which is built of a high quality, non-corroding polymer, and still features stainless steel reinforced axles.
Remember, you will be subjecting your trolley to rough terrain. Make sure the frame of your trolley is built of high strength material, predominantly metal. This is the only way to be sure that the frame of the trolley will hold up to the weight of the load, and the rugged terrain over which you are traversing. Ok, we've mentioned some specs, but what other specs are important to consider in this Kayak Trolley Ultimate Guide? You guessed it, height and width of course!
The trolley depicted above is more or less reflective of the "average" size of a trolley, though there are certainly products on the market today that come in much larger and much smaller designs. Here, the height you want to consider is the distance from the trolley axle to the ground. This measurement is going to be the amount of clearance you have when transporting your fishing kayak over bumpy terrain. Make sure to get a kayak trolley with enough clearance to get you over those large rocks!
Likewise, when referring to the "width" of the trolley, the important measurement, aside from the distance between the wheels (which of course is important relative to the stability of the trolley) is the width of the kayak cradle into which the fishing kayak is placed when under transport.
You'll want to be sure that the kayak cardle aligns with the hull of your fishing kayak, which will allow for an efficient displacement of weight throughout the trolley itself. The better distributed the weight of the fishing kayak, the less pressure on the trolley wheels, and the greater stability and control to the kayak fisherman. Also, be sure that your trolley features padded kayak cradle supports. This will keep the fishing kayak centered, and will prevent needless scratches to the hull. KFC knows that this wouldn't be much of an Ultimate Guide without discussing the storability component of a trolley:
Kayak fishing can be a very "bulky" hobby relative to any number of other hobbies one might choose to partake in. While a number of innovative kayak fishing products have recently come onto the market aimed at increasing the "flexibility" of various fishing kayaks and pieces of kayak fishing gear, we'll still take all the help we can get!
Many of the trolley products on the market today "fold flat", or at least collapse to a size that allows them to be easily stored under your bed, in the garage closet, or even in the trunk of your car. For those KFC readers concerned about the space required by adding another piece of kayak fishing gear to their collection, you can be somewhat alleviated by the fact that many of these products are built in a "space conscious" manner. The final spec, and one that is a must for discussion in this Ultimate Guide? Trolley Strength:
At KayakFishingCorner.com, we hope that the only time your trolley is "empty" is when you are out on the water enjoying your kayak fishing outing, or when your fishing kayak is safely "resting" in its place of designation at your home, garage or fishing dock. When the trolley is "loaded", you'll want to be able to rely on stated load capacity of your particular model. Typically you'll find that weight capacities vary from ~150 pounds to ~400 pounds.
Be certain not to overload the stated weight capacity of your particular trolley. While ~150 to ~400 pounds is probably more than enough to handle the load of a standard fishing kayak, and even some kayak fishing gear included in the hull, the last thing you want to do is test your limits and push your luck. Collapsing your kayak trolley while in a precarious location could be very dangerous, and would also be an expensive mistake. Finally, this Ultimate Guide wouldn't be complete without a discussion of price!
This is where we have good news! Kayak fishing can be a rather expensive hobby, but the trolley is a piece of kayak fishing gear that isn't going to break the bank! A good quality trolley will typically cost between ~$50 and $200. Now, before you think that price might be a little high, think of what you might pay someone to carry your fishing kayak back to your kayak trailer after a long day on the water.
If that doesn't persuade you, perhaps you should contemplate that a trolley may very well pay for itself if it helps you avoid the damage otherwise caused to your fishing kayak by slipping and dropping it while carrying it via other means. Don't let the cost of a kayak trolley deter you from purchasing one for yourself. We know from experience that it has saved us at least $200 worth of aching backs and legs!
Buy the Best Kayak Trolley
(Commissions Earned)
Why is this kayak trolley our favorite? We love this kayak trolley's "flexibility". When we use the term flexibility, we are referring to the ability of this kayak trolley to adapt to fishing kayaks with many different shapes and sizes of hull.
Another nice feature? The adjustable arms are comprised of a rubberized padding. This padding is sticky enough to prevent your fishing kayak from moving forward or backward while you are moving it from location to location.
OK, but what about price? Kayak fishing is an expensive hobby, but this kayak trolley is a piece of kayak fishing gear that isn't going to empty your wallet! A high quality kayak trolley will typically cost between ~$50 and $200. This kayak trolley is usually priced somewhere within that rage. Don't let the cost of a kayak trolley dissuade you from buying one for yourself. KFC can tell you from experience that it has saved us at least $200 worth of sore joints and tired legs! Oh, and if you are looking for a related page with some more detail, check out our detailed write up on the trolley showcased above.
My Experience
I knew it was time to get a trolley for my kayak after a friend of mine had an accident while trying to transport her fishing kayak down a relatively rocky and somewhat steep embankment near Veteran's Lake in Sulfur, Oklahoma. There had been recent rainfall, and my friend slipped on some mud and nearly injured herself. She was forced to drop her fishing kayak to avoid a major injury! Luckily, she was not hurt, but her fishing kayak was badly scrapped:
We promised each other right then and there that we wouldn't risk injury to ourselves (or further damage to our fishing kayaks!) by trying to transport our fishing kayaks by hand, especially when we knew there were products on the market like the kayak trolley, that could make kayak transportation so much easier and safer. Much of the research we conducted when making our own decision on which trolley to purchase has been reformatted into this guide. We hope you enjoyed reading it as much as we enjoyed writing it!
KAYAK TROLLEY CONCLUSION
I hope that this guide has helped you learn more about the kayak trolley in general. We'd rather you take it from us, than have to experience it for yourself. At some point during your kayak fishing career, you're going to have to transport your fishing kayak "by hand" over an uncomfortable terrain and distance. Put simply, transporting your fishing kayak with your trolley doing most of the work is the best way to accomplish this feat.
When selecting a trolley for your own kayak fishing outings, please use this Ultimate Guide and be sure to consider the method of attachment, the wheels, the frame, the height and width, the flexibility, the weight capacity and the cost, all of which has been written about in great detail above. We'd love to hear which trolley you decide to go with and why. Be sure to write in to KayakFishingCorner.com and share your story with us! If you have any questions about the kayak trolley, please post a comment at the bottom of this page or message me! Remember, if you'll be using a boat ramp, be sure to learn the proper etiquette first!
Interested in learning some kayak fishing safety tips and tricks? We've linked to a good resource, here!
Comments
Do you have other kayak trolley facts or questions? Please share with the rest of the KayakFishingCorner community by posting in the Comments section below. Your feedback keeps me motivated!
Summary
Article Name
Kayak Trolley Ultimate Guide - #1 Source for All Things Kayak Trolley!
Description
This Kayak Trolley Ultimate Guide provides an in depth review of the different types of kayak trolley available on the market. Which kayak trolley is best for kayak fishing? Which is best for navigating a fishing kayak on the sand? Find out which kayak trolley is the right choice for you!
Author
Publisher Name
Publisher Logo