KAYAK TROLLING MOTOR INTRO
Is the term "kayak trolling motor" unfamiliar to you? It won't be for long! While "trolling motors" have been around for quite a long time in the general boating market, their application to kayak fishing is somewhat more recent.
It is high time for a Kayak Trolling Motor Ultimate Guide to help us understand these awesome kayak fishing products! We have even ranked The 5 Best Kayak Trolling Motors for you! The term "kayak trolling motor" is sometimes used to refer to the individual motor and propeller system itself, and is sometimes used to refer to the larger combination of the kayak motor, the trolling motor mount and, when battery powered, the kayak trolling motor battery.
KAYAK TROLLING MOTOR ULTIMATE GUIDE
First, as an Amazon Associate, I earn from qualifying purchases.
KayakFishingCorner.com has devoted many seasons to researching the trolling motor products on the market. In this Kayak Trolling Motor Ultimate Guide, we explain each of the important details and features of a standard kayak motor. We then break down these important details and features into individual categories, including kayak trolling motor basics, kayak motor mount, and kayak motor battery. Lastly, we have added a link to one of our favorite models of kayak motor located near the end of this post!
Introduction
Please note: This post contains affiliate links. An affiliate link means that we may earn advertising/referral fees if you make a purchase through our links.
This wouldn't be much of a kayak motor ultimate guide if we didn't have a definition of a "trolling motor". After all, it is a strange word and is one that can be unfamiliar to even the most experienced of kayak fisherman. Wikipedia defines trolling motor as "a self-contained unit that includes an electric motor, propeller and controls, and is affixed to an angler's boat, either at the bow or stern" and "a gasoline-powered outboard used in trolling, if it is not the vessel's primary source of propulsion, may also be referred to as a trolling motor". Below, we have included what a trolling motor looks like when out of the water:
There are many different kinds of kayak trolling motors on the market today. There wasn't always such a wide selection, and KFC thinks that the exploding popularity of kayak fishing is causing more trolling motors to come onto on the market with increasing speed! Many of these "new" kayak trolling motors look to be built of high quality materials and have solid reviews. Other of the recent trolling motors look like they could fall apart on your very first kayak fishing trip. This could leave you stranded up a creek without a paddle!
Before we get further into the details, let's add a definition to the word "trolling" just like we did for "trolling motor" earlier in this article. Again, "trolling" isn't a very common word, and its a term that even the most experienced of kayak fishermen are sometimes not able to accurately define.
The word "trolling" can officially be defined as, "[to] fish by trailing a baited line along behind a boat". Of course, the product doesn't have to be used only for this kind of kayak fishing. Actually, many times the kayak motor is used as a source of power to transport a fishing kayak across long distances that would be too far to paddle by hand. Basically, the trolling motor "trolls" behind the fishing kayak just like the fishing line would. Ok, enough with the English lessons!
Parts of a Kayak Trolling Motor
Trolling Motor Basics
(Commissions Earned)
Designed with Kayak Fishing in Mind!
Knowledge of the trolling motor itself is one of the most important components of this Kayak Trolling Motor Ultimate Guide. These trolling motors come in several different sizes, styes, and pounds of thrust. What do we mean by pounds of thrust?
Thrust is measured in pounds. Thrust can be defined as "to push something with force". Pushing "something", in this case a fishing kayak, is exactly what the trolling motor is doing. The image below will help illustrate what is actually going on below the surface of the water.
Every kayak motor has a motor connected to a propeller. The motor causes the propeller to turn, which creates thrust. This thrust then drives the fishing kayak forward.
Most trolling motors are built with a 30″ – 50″ long shaft. The "shaft" is a long piece of material (usually metal or carbon fiber, but sometimes fiber glass) that connects the propeller to the handle. Many trolling motors now come with different speed settings. Most of these settings allow for forward movement, but some trolling motors are now built to allow reverse. Being able to reverse is very important for kayak fishing!
Some of the high end trolling motor models also come with LED battery monitors (so you can monitor battery life) and telescoping handles. The telescoping handles allow adjustment of the trolling motor to the height and comfort level of the kayak fisherman.
Trolling Motor Mount
What good is a trolling motor without a reliable point of attachment to the fishing kayak? Luckily, this is the job of a kayak fishing accessory called the "kayak trolling motor mount". The trolling motor mount is a fixed point attached to the fishing kayak upon which a trolling motor is mounted.
While there are many safe ways to attach a kayak trolling motor to a fishing kayak, we have seen many kayak fishermen opt for a more dangerous approach. Look at the image we've included below. Please buy a high quality trolling motor mount and avoid such a dangerous method of attachment!
There are many high quality mounts on the kayak fishing gear market. Do not be persuaded to "do it yourself" like in the image above. Doing so might damage the hull of your fishing kayak. How? This may result in the trolling motor pulling free from its mount, damaging the hull and resulting in danger to the kayak fisherman when the propeller exits the water while still under power!
Any top quality trolling motor mount will make sure that your kayak motor stays safely attached to the fishing kayak. Only then can you be sure that the trolling motor will only raise from the water when you actually want it to.
Trolling Motor Battery
We've written about the kayak motor, and the kayak trolling motor mount, but you won't get very far without connecting your kayak motor to a power source. Likewise, this Kayak Trolling Motor Ultimate Guide wouldn't be very ultimate without a write up on power sources! As mentioned above, many kayak trolling motors are powered by gas and many are powered by battery. These kayak trolling motor batteries (like the one we've showcased above) can last for a very long time. Long enough to provide ample power for the average kayak fishing trip. But how long to be exact?
There is actually an easy way to figure out how long the kayak trolling motor battery will last. All you need to do is divide your "amperage hours" by the draw of the motor. Confused? You shouldn't be. Let's use an example. If your battery is measured at 100 amperage hours, and if the draw of the motor is 25 amps, then you will have approximately 4 hours of consistent use. This means you could travel via kayak motor for 4 hours straight without running out of juice!
Kayak motor batteries have made significant improvements in ergonomics in recent years. The high quality models, like the one we show above, are built with a thick rubberized padding on the bottom. This prevents the battery from sliding around on the floor of the fishing kayak. Certain models of trolling motor battery even come with a direct USB connection and accessory port.
The inclusion of this port is very convenient, allowing for one USB charger and one 12V accessory port. This way, you can connect different kind of DC accessories while you are out on the water! Being able to charge your phone while you are on the water kayak fishing is an important safety feature. KFC suggests strong consideration of any kayak motor batteries that include this phone charging ability.
Remember, kayak trolling motors come as gas powered or battery powered. Some bodies of water will require that battery power be used. If that is the case, then you will be well served by the battery shown above. Kayak fishing from a battery powered trolling motor can potentially yield better fishing results, as the kayak motor will run much quieter under battery power as opposed to gas power. Maybe the fish will be less concerned given the decrease in noise! Who knows, maybe you'll even catch more!
My Experience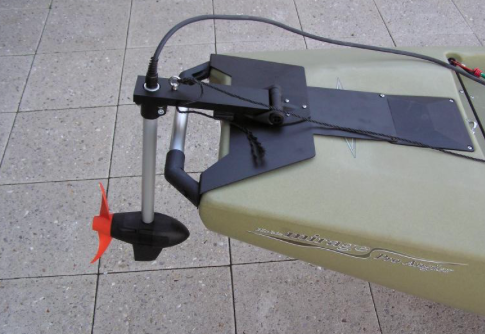 I first saw a kayak motor about five years ago while I was kayak fishing on Lake Austin near the University of Texas. Soon after my friend and I had paddled out onto the lake, we saw a fellow kayak fisherman struggling in the distance. The struggling kayak fisherman was looking generally in our direction. He appeared to be frantically waiving a burnt orange colored towel at us. He was clearly in need of assistance, so we paddled over to him as quickly as we could.
Right before we were able to get to him, another kayak fisherman reached him and was able to offer assistance. The good samaritan was able to travel quickly to the struggling fisherman thanks to the power provided to him by the trolling motor he had attached to his fishing kayak. We were amazed how quickly and seamlessly the good samaritan kayak fisherman was able to travel all the way across the water! Finally, when we arrived to offer assistance of our own, we saw that it wasn't a towel but a University of Texas t-shirt that the distressed kayak fisherman had been waving.
It was also readily apparent that the stranded fisherman had consumed far too many Smirnoff Ice beers. He claimed to have consumed at least 9, and the empty glass bottles littered the hull of his fishing kayak.
Fortunately, the good samaritan kayak fisherman was able to safely tow the intoxicated University of Texas fan back to land. We then witnessed him wobble up the path to his RV and take a seat on a nearby log.
We were lucky to have seen this rescue, in hindsight, because my friend and I had the chance to witness the quick and smooth maneuverability of the good samaritan's fishing kayak. We knew that it was because of the trolling motor, and we soon looked into whether we might benefit from a kayak motor for our own kayak fishing trips!
CONCLUSION
I hope that this guide has helped you learn more about the kayak trolling motor. Kayak trolling motors are highly convenient pieces of kayak fishing gear! They allow for a kayak fisherman to fish many different locations during a single outing. The ease of use associated with the kayak trolling motor allows for the kayak fisherman to travel all the way across the lake or upstream in the river, all in search of the best fishing hole!
As stated in this Ultimate Guide, a trolling motor is best purchased as a package deal. You'll want to buy the trolling motor, the kayak motor mount, and possibly the trolling motor battery all prior to your initial outing. Remember, each of these pieces is dependent upon the next to ensure a successful kayak fishing trip. You can learn more about these awesome pieces of kayak fishing gear here!
Finally, there are many types of kayak trolling motor products other than those which we've highlighted above, and many of them would serve you well in your kayak fishing career! But remember, KFC has researched the above and has independently determined that they are top of the line products. If you'd like a little certainty before you buy, we hope this Kayak Trolling Motor Ultimate Guide has provided it for you! If you have any questions about the kayak trolling motor in general, please post a comment at the bottom of this page or message me!
Do you think that you are one of the best kayak fishermen around? Put your skills to the test with a little competitive kayak fishing!
Comments
Do you have any questions the kayak trolling motor or kayak fishing in general? Please share with the rest of the KayakFishingCorner community by posting in the Comments section below!