Sit In Kayak Trolley
Before you devote your time to learning about the Sit In Kayak Trolley, I recommend that you visit KFC's Kayak Trolley Ultimate Guide. Our Ultimate Guide provides an in depth education of all things kayak trolley. Building your base level knowledge on this subject is critical in the development of your education on this highly desired, and relatively new to market, kayak fishing product.
Once you've established basic knowledge about the kayak trolley and have determined that you'd like to purchase a kayak trolley for yourself to assist you with your kayak fishing adventures, you'll need to evaluate whether would a "sit in" or a "sit on top" kayak trolley is your best bet. Obviously, your choice is somewhat of a function of whether you typically use a "sit in" or a "sit on top" kayak while kayak fishing. As a reminder, we've included an image of each different type of style below:
"Sit In" Fishing Kayak
"Sit on Top" Fishing Kayak
Parts of a Kayak Trolley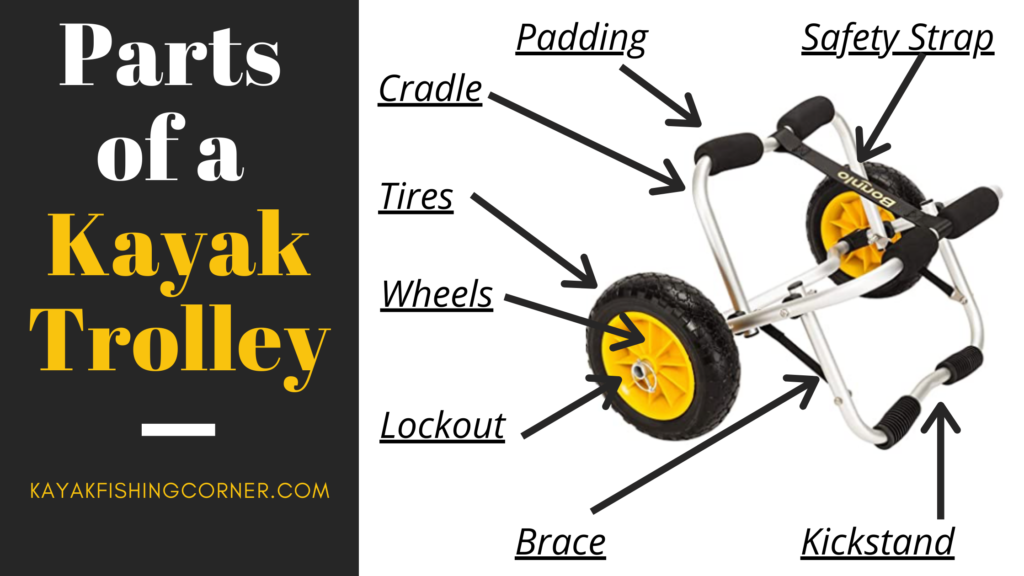 While there are many similarities between the sit in and sit on top kayak trolley designs, you'll want to make sure you choose one that is specific for the style of fishing kayak you use most frequently. If you do not, you are at risk of creating a disconnect between the kayak trolley and your fishing kayak. If this occurs, you'll likely experience counter balanced weight distribution or, in a worst case scenario, an outright inability to use the kayak trolley as you had intended to use it. This KFC article focuses on the Sit In Kayak Trolley, and should serve as a guide to help you determine whether this type of kayak trolley is right for your kayak fishing needs!
UNBIASED REVIEW
First, as an Amazon Associate, I earn from qualifying purchases.
All material found on KayakFishingCorner.com, including this post on the Sit In Kayak Trolley, is rooted in KFC's unbiased analysis and study. KFC team members have amassed the expertise required to review and evaluate a wide variety of kayak fishing equipment and accessories.
KFC promises to not promote any brand or manufacturer by writing inflated rankings or biased reviews. KFC reviews occur on a level playing field. We want to be certain that every kayak fishing product receives equal opportunity.
Please note: This post contains affiliate links. An affiliate link means that we may earn advertising/referral fees if you make a purchase through our links.
Sit In Kayak Trolley: Introduction
(Commissions Earned)
The Sit In Kayak Trolley is a relatively new piece of kayak fishing gear. It arrived onto the kayak fishing scene and has filled what can be described as a transportation dilemma. Several years ago, there were a number of products, like fishing kayak trailers, that were designed for getting fishing kayaks from Point A to Point B. This was great, unless Point B was located too far from the water, thus requiring the kayak fisherman to carry a heavy and awkwardly shaped fishing kayak by hand over uneven surfaces at great distances. This problem was solved by the Sit In Kayak Trolley:
Its not hard to understand why the Sit In Kayak Trolley has quickly become so revered by kayak fishermen. They are designed to be lightweight, relatively inexpensive, long lasting, and many are also collapsable so that storing and transportation is not an issue. Each of these Sit In Kayak Trolley features is great, however, there is perhaps one overall most popular feature of the Sit In Kayak Trolley. What is it? Ease of use (regardless of skill level) and convenience afforded to the kayak fisherman!
My Experience
I decided to get a Sit In Kayak Trolley after a kayak fishing trip to Blue Lake near Cuchara, Colorado, located in the southern portion of Colorado. Blue Lake (photo below) is an alpine lake, located at the end of a meandering mountain path, far from the parking lot near the campsites and picnic grounds. Out of ignorance, and lack of supplies, I elected to "muscle" my sit in fishing kayak all the way, starting with pulling it down from my SUV's kayak rack and then to the edge of the lake.
Finally, and I will spare the details of how long it took me, I made it all the way down the rocky path without (major) incident, but wow were my muscles sore the next day! I remember thinking to myself, "why in the world would I go through the trouble of "muscling" my heavy fishing kayak all of the way down the rocky and uneven Blue Lake path when I could have made a small investment in a Sit In Kayak Trolley and then let it do all of the hard work for me"? Needless to say, I didn't have a very good answer for myself!
Sit In Kayak Trolley: Introduction
Remember, the distinguishing feature, or at least one of them, between a sit on top fishing kayak and a "sit in" fishing kayak is the presence of what are called scupper holes. "Scupper holes", as pointed out above, are small holes in the hull of a fishing kayak that are designed to allow water to drain from the hull of the fishing kayak, but yet not seep in. Scupper holes are often the point of connection for the sit on top (but not the sit in) kayak trolley (see below how the arms insert directly into the fishing kayak's scupper holes).
Because this kind of Trolley is designed to work with a sit in fishing kayak, and because sit in fishing kayaks do not (usually) have scupper holes, you will see that the kayak trolleys for this type of arrangement use a totally different type of design. Usually it will involve heavy duty V-Necked "arms" and some type of reinforced strapping mechanism to keep the fishing kayak secured to the frame of the Sit In Kayak Trolley. Check out an example in the image below:
Important Features
KFC mentions some of the basics of the Sit In Kayak Trolley, but what about some of the other important features you should consider when making the decision about which Sit In Kayak Trolley is the best fit for you? First, you'll want to verify that your Sit In Kayak Trolley is adjustable to suite a wide variety of fishing kayak hulls. Why? Well, it is likely for your kayak trolley to be used for more than just your own fishing kayak, once your kayak fishing group sees how convenient this piece of kayak fishing gear is!
You will also want to double check the weight capacity, longevity and the ground clearance specification of the Sit In Kayak Trolley. Why? Because at the end of the day a kayak trolley is only as good as the amount of weight it can safely carry, and even if it can carry thousands of pounds (which, admittedly, isn't very often) you won't be going very far if the kayak trolley doesn't have adequate ground clearance (be sure to consider the rocks and other obstacles likely to be encountered on your path)!
The Trolley shown below, although unique in design, is adjustable, just like the ones we've already highlighted, allowing it to customize to a number of different hull sizes. Take a look at the image below to see how it is done:
Another Great Option
(Commissions Earned)
This versatility in width allows this STrolley to accommodate almost any fishing kayak on the market today. What's more? It's frame is constructed of heavy duty plastic, rubberized padding, and puncture resistant wheels, all working perfectly together to ensure a long life while standing up to numerous instances of being wet, dry, and then wet again!
Finally, featuring a 300 pound "load capacity", this Sit In Kayak Trolley is certain to stand up to even the heaviest of fishing kayak loads. Do us, and yourself of course, a favor and be sure to reference the user guide that comes with your fishing kayak to check on your specifications. We rarely see a fishing kayak weighing in excess of what a reputable Trolley can manage, but you don't want to take any unnecessary risks while you are on your kayak fishing outing!
Pro Tip: You know what goes well with this kind of kayak trolley? A Sit-In Kayak Seat Cushion! Take a look at the Best Sit-In Kayak Seat Cushion on the market!
Sit In Kayak Trolley: Conclusion
No longer do you have to be the person trying to drag your fishing kayak to the water. Kayak trolleys like the Sit In Kayak Trolley have now been around long enough, and are inexpensive enough, that it is flatly inexcusable to be without one. Kayak fishermen know this better than anyone, fishing kayaks are bulky, heavy, and are hard to get a good handle on. We can assure you that a kayak trolley will make for a way more enjoyable outing, and will also reduce the risk of injury to yourself and your friends by otherwise trying to "muscle" the fishing kayak to and from. Read up on the STrolley offerings that KFC has highlighted above. Not convinced? Check out the Top 5 Reasons to Buy a Kayak Trolley! Try using a boat ramp to ease your kayak and the trolley into the water!
Looking for some other helpful kayak fishing tips and tricks? Check here!
Comments
Do you have any questions regarding KFC's Sit In Kayak Trolley article or kayak fishing in general? Please share with the rest of the KayakFishingCorner community by posting in the Comments section below.