SIT ON TOP KAYAK CART: INTRO
Before reading about the Sit on Top Kayak Cart, we suggest that you take a look at KFC's Kayak Cart Ultimate Guide. The Ultimate Guide is designed to give you an in depth understanding of kayak carts. It is a critical part of the development of your knowledge about this awesome kayak fishing product!
Sit On Top Kayak Cart: Overview
First, as an Amazon Associate, I earn from qualifying purchases.
Kayak Carts come in a number of different shapes and sizes. KFC wants to make sure that its readers fully understand the difference between all of the types of kayak cart on the market today. That's why we've written this article about the sit on top kayak cart style. This post contains all the important details about the sit on top kayak cart.
We've broken this article down into several separate categories to help us explain. First, we give a brief introduction to the sit on top kayak cart. Next, we have provided a brief "how to" checklist so that you can learn how to properly use this kind of kayak cart. Next, we've gone over a number of the important features that are must haves when it comes to this type of kayak cart. Then, we include a link to one of our favorite sit on top kayak carts where you can visit its product page to learn more. Finally, we include a brief story about our own experience with a kayak cart like the one you see highlighted in this article!
Unbiased Review
All KayakFishingCorner.com reviews, including this post on the Sit on Top Kayak Cart, are independent and unbiased.
At KFC, we will never provide a brand or manufacturer with inflated rankings or biased reviews. We do not post misleading or inaccurate articles.
Parts of a Kayak Cart
Basics
Please note: This post contains affiliate links. An affiliate link means that we may earn advertising/referral fees if you make a purchase through our links.
After you've developed basic knowledge about the kayak cart, and have decided that it makes sense to buy a kayak cart of your own, its time to determine whether you should buy a "sit in" or a "sit on top" kayak cart. This decision will largely be tied to whether you use a "sit in" or a "sit on top" kayak for kayak fishing. We've shown an image of the two different styles below:
"Sit In" Fishing Kayak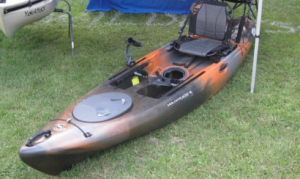 "Sit on Top" Fishing Kayak
There is some cross over between sit in and sit on top kayak carts, but you are best served by buying one specific for the particular style of your fishing kayak. If you do not, you run the risk of a mismatch relative to kayak cart and fishing kayak. Such a mismatch will lead to a counter balanced weight distribution, or even an inability to use the kayak cart as intended. Want to learn more? In the post below, KFC focuses on the sit on top kayak cart, take a look and see if this could be the right choice for you!
How to Use a Sit on Top Kayak Cart
There are proper and improper ways to use the sit on top kind of kayak cart. Done correctly, and the kayak cart will be a great and efficient piece of kayak fishing gear for years to come. Used improperly, however, and you put the safety of you, those around you, and your fishing kayak all in jeopardy! Take a look at the short checklist below. It is a good guide to teach you the quick tips and tricks!
We always start by unfolding the kayak cart and pushing it open to the position it will be in while you are carting your kayak.
Place the kayak cart flat on the ground.
Next, push down on the rubberized pads to see if the cart sways or flexes significantly. This is a good way to determine whether the cart has been assembled correctly.
The cart should be fairly rigid. Remember, kayaks are pretty heavy, and you'll need to support the kayak's full weight.
Check the cart's wheels to make sure that they haven't developed an irregular shape or any cracks in their treading.
Next, lift your kayak up and hover it directly above kayak cart.
Position the kayak so that the hull is directly over the cradle (or middle) of the kayak cart. Try to stay as centered as possible, as this will help you with the balance atop the cart.
Gently lower the kayak down into the cradle. Make sure to avoid slamming it into place.
The weight of the kayak should be evenly distributed. We suggest pushing the front and back of the kayak to make sure that the kayak cart doesn't wobble!
Enclose the included straps around the body of the kayak. The straps will either reattach to one another or you can tie them to the kayak cart's frame.
Tighten the straps securely. This will keep your kayak from bouncing loose while you are traveling over bumpy roads or pathways!
Ok, that's it! If done properly, its time to head for the water!
Important Features of a Sit on Top Kayak Cart
Scupper Holes. The sit on top kayak cart

is a relatively new piece of kayak fishing gear on the market. It came onto the scene to fill a fishing kayak transportation dilemma. There were many products, like fishing kayak trailers, that were great for moving your fishing kayak from Location A to Location B. But what if Location B is very far from the water, requiring you to carry a dense fishing kayak by hand for an uncomfortably far distance? This is why the sit on top kayak cart has become so popular.
These kayak fishing products are lightweight, inexpensive, long lasting, and some are even collapsable, making their storage a non-issue. Perhaps the most popular attribute of the sit on top kayak cart? Convenience and ease of use.
As shown above scupper holes are the distinguishing feature of a sit on top fishing kayak versus a "sit in" fishing kayak. "Scupper holes" are small holes in the hull of a fishing kayak that let water drain out of the hull, but disallow it from seeping in. The scupper holes are the point of connection for the sit on top kayak cart. Convenient multi purpose use, right?
This is the most solid method of connecting the sit on top kayak cart to the fishing kayak itself. It totally eliminates the risk of the fishing kayak sliding off when traveling over rocky terrain. Also, it inserts and removes with ease!
The image of the sit on top kayak cart shown above helps us understand the placement of the sit on top kayak cart and its adjustable arms relative to the location of the scupper holes. If you take the correct measurements of the fishing scupper holes, and as long as you buy a sit on top kayak cart with adjustable arms, you will be sure to have smooth transportation of your fishing kayak on even the hardest of pathways! While you're at it, learn how to keep your kayak paddle safely connected to your fishing kayak while on uneven pathways by using a Kayak Paddle Holder!
Adjustable Arms. We've learned some of the fundamentals

about the sit on top kayak cart. But what are some of the important things to think about when making the decision on which sit on top cart is the best one for you? First, you need to make sure that your sit on top kayak cart is adjustable to fit a wide range of sit on top kayaks. Why is this important? Well, likely your kayak cart will be used for more than just your own fishing kayak once your fishing buddies see how easy to use it is!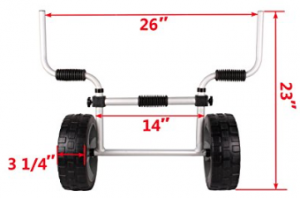 The kayak cart shown above has been designed to fit sit on top fishing kayaks with scupper holes of at least 3/4″ in diameter. You can see how the adjustable racking arms have been included with the product.
You will also need to evaluate the weight capacity, durability and the clearance provided by the sit on top kayak cart. A kayak cart is only as good as the size of the load it can carry. Even if it can carry thousands of pounds, you can't go very far if you don't have adequate clearance!
Load Capacity. The sit on top kayak cart KFC showcases above is adjustable, just like the ones previously depicted. The

width control allows for adjustment from 6.5″ to 16.5″. This width versatility accommodates almost any fishing kayak on the market today. What else? The frame is constructed of a non-corrosion aluminum frame. This is perfect for ensuring a long life. The frame will stand up to many occasions of being wet, dry, and then wet again.
Also, given the 200 pound load capacity, this kayak cart is able to withstand the heaviest of fishing kayak loads. Make sure to reference the user guide that comes with your fishing kayak. KFC rarely sees a fishing kayak that weighs more than what a reputable sit on top kayak cart can take. Remember, you don't want to take any chances while you are on your kayak fishing trip!
Buy the Best Sit on Top Kayak Cart
(Commissions Earned)
The sit on top model of kayak cart that we depict above contains all of the features you'd desire in a top of the line kayak cart. It is perfect for kayaks with scupper holes, fitting all standard sized kayak models with such holes. Above you learned about the importance of adjustable arms and this kayak cart certainly fits the bill. It has been built with a variable locking system that allows for adjustment from 6.5″ to 16.5″. That should be more than enough to accommodate nearly every find of kayak on the market.
With a 200 pound load capacity, it is more than capable of carrying one or even two kayaks, even if the kayaks contain some gear! The ability to move several items at once is a huge perk, and you can be certain that this cart's aluminum frame won't let you down. Finally, the manufacturer must have been after my own heart when they included a 6 x 4 inch foam pad that sits just below the kayak's hull. This foam pad will protect the kayak from damage that might otherwise be caused when bouncing along a bumpy path. A nice touch!
My Experience with a Sit on Top Kayak Cart
I discovered that it was time to buy a sit on top kayak cart for myself after a kayak fishing trip to Bear Lake nearby Cuchara, Colorado, located near the New Mexico border. Bear Lake (shown in the photo below) is an alpine lake, located down a steep and difficult path, far from the flat surface of the parking lot. On this trip, I decided I was going to "muscle" my fishing kayak all the way from my SUV's kayak rack to the edge of the water.
I made it down the path without hurting myself, but man was I sore the next day! I thought, "why would I put myself through the trouble of hand carrying my fishing kayak all the way down the path when I could just buy a sit on top kayak cart and let it do the difficult work for me"? As you might have guessed, there wasn't much debate! The kayak cart we've highlighted above was a perfect fit, and it has served me well for many seasons at this point!
SIT ON TOP KAYAK CART: CONCLUSION
I hope this post has helped you learn more about why we feel that a sit on top kayak cart is such a great kayak fishing accessory. This is true regardless of the level of experience of the kayak fisherman. Remember, if you have any questions about whether the sit on top kayak cart would be the best choice for you, please make sure to comment near the bottom of this page. We'd love to hear about the specifics of your kayak and help you determine which model or type of kayak cart might be best!
Kayak cart accessories, like the sit on top kayak cart, have been around long enough and are inexpensive enough, that there is no excuse to go without one. Fishing kayaks are heavy, bulky, and are hard to get a good handle on. Remember, a kayak cart makes for much better kayak fishing experience. Also, it will vastly reduce the risk of injury to yourself and others. Look into the sit on top kayak cart products KFC highlights above. Each of these is high quality, and comes at a price that makes it affordable to a wide variety of kayak fisherman. While you are here, learn how to safely store your kayak cart and fishing kayak in your Garage Kayak Rack! We think its easiest to push your kayak cart to the water by using a boat ramp!
Want to experience kayak fishing in a different way? Try attending an upcoming tournament!
Comments
Do you have any questions regarding KFC's Sit on Top Kayak Cart post? Unsure whether the sit on top model is right for you? What about questions about kayak fishing in general? Please share with the rest of the KayakFishingCorner community by posting in the Comments section below. We love to hear from the kayak fishing community!