Sit on Top Kayak Trolley
Before you spend time learning about the Sit on Top Kayak Trolley, we suggest you devote some time to going through KFC's Kayak Trolley Ultimate Guide. The Ultimate Guide walks you through all things kayak trolley, and is a critical component of the development of your education on this convenient kayak fishing product.
Once you've developed foundational knowledge about the kayak trolley, and decided that it makes sense to purchase a kayak trolley of your own to support you in your kayak fishing addiction, its time to determine whether you would benefit from a "sit in" or a "sit on top" kayak trolley. This distinction is largely tied to whether you use a "sit in" or a "sit on top" kayak for your kayak fishing outings. We've depicted a representative image of each style below:
"Sit In" Fishing Kayak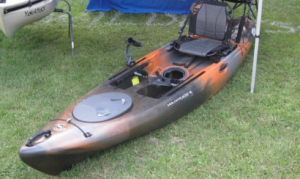 "Sit on Top" Fishing Kayak
While there is some cross over between sit in and sit on top kayak trolley products, you are better served by purchasing one specific for the style of your fishing kayak. Otherwise, you run the risk of a mismatch between kayak trolley and fishing kayak, which would lead to a counter balanced weight distribution, or simply an inability to use the kayak trolley for its intended purpose whatsoever. Interested in learning more? Below KFC focuses on the sit on top kayak trolley, take a look!
UNBIASED REVIEW
First, as an Amazon Associate, I earn from qualifying purchases.
All of the reviews and educational material you find on written on KayakFishingCorner.com, not to mention this post on the Sit on Top Kayak Trolley, finds its roots in KFC's independent analysis and study. The KFC team members have collected the expertise and knowledge necessary to review and accurately evaluate a wide variety of kayak fishing equipment, accessories and related gear.
At KFC, we promise to never provide any brand or manufacturer inflated rankings or reviews, and we will not post misleading or inaccurate articles. All KFC reviews are conducted on a level playing field. Every kayak fishing product gets fair treatment.
Parts of a Kayak Trolley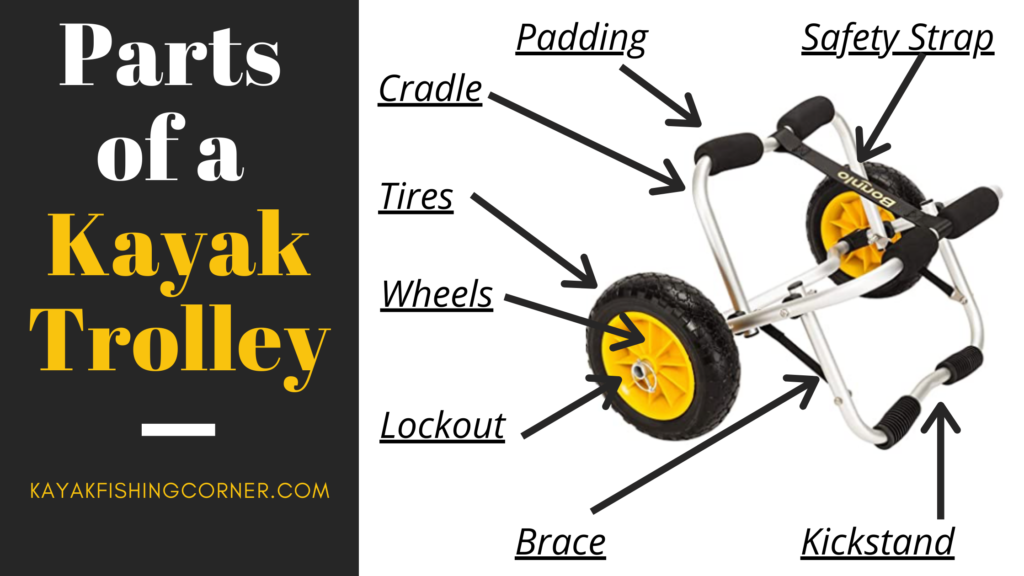 Please note: This post contains affiliate links. An affiliate link means that we may earn advertising/referral fees if you make a purchase through our links.
Sit on Top Kayak Trolley: Introduction
(Commissions Earned)
Engineered for Stability and Control!
The sit on top kayak trolley is one of the newer pieces of kayak fishing gear to hit the market. It bursted onto the kayak fishing scene to fill a transportation void. It seemed that there were many products, like fishing kayak trailers, that were great for getting your fishing kayak from Point A to Point B. But what if Point B was simply too far from the water, and required carrying a heavy fishing kayak by hand for a far distance? Enter the sit on top kayak trolley:
Its no secret why the this kayak trolley became so popular. These kayak fishing products are lightweight, affordable, durable, and some are even collapsable so that their storage is a non-issue. Aside from each of these factors, however, is perhaps the most popular attribute of the sit on top kayak trolley – its convenience and ease of use!
My Experience

I knew it was time to get this kayak trolley of my own after a kayak fishing outing to Bear Lake near Cuchara, Colorado. Bear Lake (photo below) is an alpine lake, located down a twisting and turning path, far from the relative flat of the parking lot near the campsites. I decided that I was going to "muscle" my sit on top fishing kayak all the way from my SUV's kayak rack to the edge of the lake.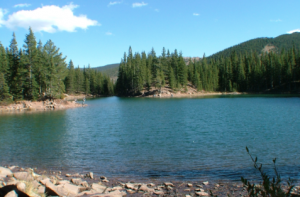 Luckily, I made it down the path without incident, but boy was I sore the next morning! I thought to myself, "why would I put myself through the trouble of hand carrying my fishing kayak all the way down the treacherous Bear Lake path when I could make a relatively small investment in a top kayak trolley and have it do the hard work for me"? Needless to say, there wasn't much debate with myself!
Sit on Top Kayak Trolley: Introduction
Let's take a look at the distinguishing feature, or at least one of them, of a sit on top fishing kayak versus a "sit in" fishing kayak. "Scupper holes", as pointed out on the rendering of the sit on top fishing kayak above, are small holes in the hull of a fishing kayak that allow water to drain out of the hull, but yet not seep in. "Ok", you say, "but this is a post about sit on top kayak trolley products, what does this have to do with those types of kayak trolley?". Well, the scupper holes are often the point of connection for the skayak trolley.
This is perhaps the most solid method of connection of a kayak trolley to the fishing kayak itself. It simply eliminates any risk of the fishing kayak sliding off when going over bumpy terrain, and inserts and removes with relative ease.
The above image helps to conceptualize the placement of kayak trolley and its adjustable arms relative to the placement of the scupper holes. So long as you take correct measurements of your fishing kayak's scupper holes, and so long as you purchase a sit on top kayak trolley with adjustable arms, you should be all set for a smooth transportation of your fishing kayak on even the rockiest of pathways! Learn how to keep your kayak paddle safely attached to your fishing kayak while on rocky pathways by using a Kayak Paddle Holder!
Want to protect your hands from blisters while paddling your kayak? Learn what the Best Kayak Paddle Grips can do for you! Sitting on a proper Kayak Seat Pad can also make things more comfortable when on a long kayak fishing outing!
Important Features
We've talked about some of the basics of this kayak trolley, but what are some of the important features to consider when making a decision on which sit on top kayak trolley is right for you? First, you'll want to make sure that your sit on top kayak trolley is adjustable to suite a wide variety of sit on top kayaks. Why? Because it is likely that your kayak trolley will be used for more than just your fishing kayak once your fishing group sees how convenient the device is.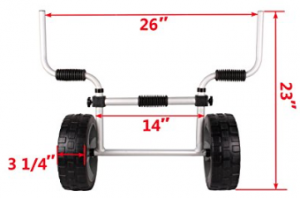 The kayak trolley depicted above, for instance, has been designed to accommodate sit on top fishing kayaks with scupper holes that are at least 3/4″ in diameter, and you can see the adjustable racking bars that have been included with the product.
You will also want to be sure of the weight capacity, durability and the clearance afforded by the sit on top kayak trolley. Let's face it, a kayak trolley is only as good as the weight it can carry, and even if it can carry thousands of pounds, you won't be going very far if you don't have adequate clearance!
The sit on top kayak trolley depicted above is adjustable, like the ones previously depicted, with width control allowing for adjustment from 6.5″ to 16.5″. This versatility in width will accommodate nearly any fishing kayak on the market today. What's more? It's frame is constructed of a non-corrosion aluminum frame, perfect for ensuring a long life and standing up to many occasions of being wet, dry, and then wet again.
Finally, with a 200 pound load capacity, the kayak trolley shown above is sure to withstand the heaviest of fishing kayak loads. Do yourself a favor and reference the user guide that comes with your fishing kayak. While we rarely see a fishing kayak that weighs in excess of what a reputable sit on top kayak trolley can withstand, you don't want to take any chances while you are on your kayak fishing adventure!
Sit on Top Kayak Trolley: Conclusion
Don't be the person caught trying to hand drag your fishing kayak to the water's edge. Kayak trolley products like the sit on top kayak trolley have been around long enough, and are affordable enough, that it is simply inexcusable to go without one. Fishing kayaks are bulky, heavy, and are hard to get a good grip upon. A kayak trolley will make for much more enjoyable experience, and will also vastly reduce the risk of injury to yourself and others by otherwise trying to "muscle it". Check into the sit on top kayak trolley products that we have depicted above. Each is high quality, and comes at a price that is hard to turn down. We know you won't regret it! Why stop there when it comes to safety? Learn how to safely store your kayak trolley and fishing kayak in your Garage Kayak Rack! Learn how to launch your kayak by yourself by taking your trolley to a boat launch!
Learn about certain dangers to be mindful of while you are kayak fishing on new bodies of water! We've added a helpful link, here!
Comments
Do you have any questions regarding KFC's Sit on Top Kayak Trolley article or kayak fishing in general? Please share with the rest of the KayakFishingCorner community by posting in the Comments section below.
Summary
Article Name
Sit on Top Kayak Trolley - Top 5 Product for Kayak Fishing! But Why?
Description
The Sit on Top Kayak Trolley is the perfect combination of price and functionality. Learn why so many KFC readers recommend buying a Sit on Top Kayak Trolley as one of their very first kayak fishing purchases!
Author
Publisher Name
Publisher Logo