Standard Kayak Trolley
Fishing Kayak Trolleys come in a number of different styles. Some are designed as Sit on Top Kayak Trolley models and some are Sit In Kayak Trolley models. Both styles of fishing kayak trolley are written about in great detail on KFC's Kayak Trolley Ultimate Guide, and we suggest you spend some time there prior to learning about the Standard Kayak Trolley in this article.
UNBIASED REVIEW
First, as an Amazon Associate, I earn from qualifying purchases.
Each review you see on KayakFishingCorner.com, including this post on the Standard Kayak Trolley, is based upon KFC's own non-biased research, analysis, and inquiry. The KFC team has the expertise and know-how necessary to thoughtfully evaluate all different kinds of kayak fishing equipment, gear and accessories.
At KFC, we never give any retailer biased rankings, feedback or reviews, and we do not write misrepresentative or inaccurate postings. Our kayak fishing reviews take place on a level playing field. Each product gets a fair shake.
Parts of a Kayak Trolley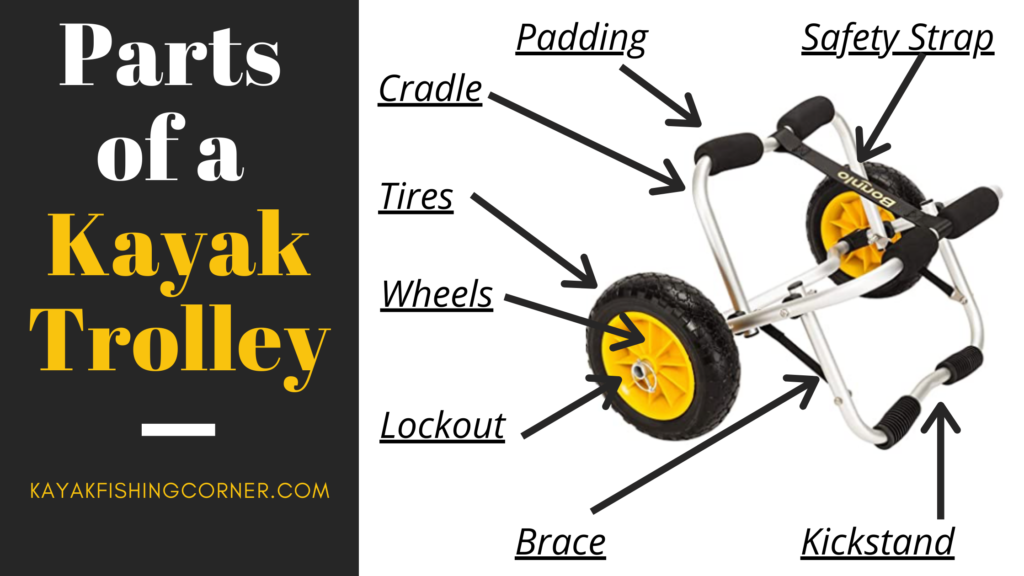 Please note: This post contains affiliate links. An affiliate link means that we may earn advertising/referral fees if you make a purchase through our links.
Standard Kayak Trolley: Introduction
(Commissions Earned)
Fishing kayak trolleys are the perfect way to transport your fishing kayak over long distances and bumpy roads. The Standard Kayak Trolley is generally constructed of two large wheels connected to a centralized axle, upon which a V-Necked kayak cradle sits. The large wheels allow for the fishing kayak to be pushed with relative ease, while the V-Necked cradle (and included straps) keep the fishing kayak safely secured to the Standard Kayak Trolley frame.
My Experience
I knew I needed to do something. I was tired of pulling my fishing kayak along the rocky shorelines and letting the frame get scuffed and scratched. I needed something basic, something simple to help me move the fishing kayak, but that wouldn't break the bank. When I stumbled onto the internet, I quickly learned that the Standard Kayak Trolley would suit my needs perfectly.
I was particularly fond of the way the Standard Kayak Trolley supported the somewhat unbalanced weight of my fishing kayak and found that the light weight frame was quite rigid and has stood the test of time while I have navigated some uneven and rocky terrain.
Scupper Holes
An important distinction between Sit On kayak trolleys and Sit on Top kayak trolleys is the presence of scupper holes. Importantly, the Standard Kayak Trolley does not require scupper holes to be effectively used. The fishing kayak simply lays on top of the V-Necked frame.
The genius of the Standard Kayak Trolley is the simplicity of its design. One does not need any special kayak fishing experience or know how to operate the Kayak Trolley – You simply lower the fishing kayak into the V-Necked arms, secure the kayak to the frame with the included ropes, and go along your chosen path to the water way! Below, we discuss some of the most important features of the Kayak Trolley and make a suggestion as to whether we think it could be right for your and your own kayak fishing experience!
Standard Kayak Trolley: Important Features
One of the most important features of any kayak fishing accessory is the flexibility afforded by the individual piece of kayak fishing gear. The Standard Kayak Trolley passes this test with flying colors! The Standard Kayak Trolley easily and quickly folds flat for easy storage under the bed, in the garage, or in the trunk of your vehicle.
The next critical feature is the presence of heavy duty straps of the Standard Kayak Trolley. The padded V-Necked design, along with good old fashioned gravity of course, goes a long way in ensuring that your fishing kayak stays safely connected to the kayak trolley's frame, but heavy duty straps are always a nice fail safe.
Next, and probably most important in terms of convenience to the kayak fisherman, is the inclusion of a spring loaded support stand that operates to stabilize the kayak trolley upon the loading and unloading of the fishing kayak. We have included a close up image of this very important feature below:
The spring loaded support stand will keep the kayak trolley nice and steady when you are in the somewhat precarious position of maneuvering the fishing kayak. Once the kayak is loaded, or unloaded, the support stand is simply pushed back into its "closed" position, and the kayak trolley goes about its standard usage without any interference.
Another critical feature, and the "favorite" feature of many of KFC's readers, is the size, texture and durability of the Standard Kayak Trolley wheels. The larger the wheel size, the less effort is required of the kayak fisherman in order to move the kayak trolley from location to location.
KFC suggests that its readers strongly consider purchasing a kayak trolley with wheels in excess of 9″ by 3″, and perhaps consider an even larger wheel if your kayak trolley needs will require traversing sand or very fine and loose gravel. One extra tip: Knobby tires tend to hold up better than smooth tires, as they more easily handle uneven surfaces and distribute "wheel-wear" in a more even manner. What if you are heading to the beach? Take a look at the Kayak Beach Trolley!
Pro Tip: Want to grow a second pair of hands? Well, not real hands, but a Kayak Paddle Holder Clip is the next best thing! Becoming tight on space with all your kayak fishing gear? Learn How to Use a Kayak Rack for Dock based kayak storage!
Conclusion
If you are looking for a solid, easy to use, and highly convenient piece of kayak fishing gear, the Standard Kayak Trolley that we've depicted above is a great place to start. The convenience afforded by being able to move a heavy fishing kayak, with ease, and by yourself, cannot be overstated. It has saved me and hundreds of other KFC readers countless hours, not to mention sore backs and pinched fingers.
Whichever model of kayak trolley you choose, make sure you've considered the important features that KFC has outlined above! Still not convinced? Check out our Top 5 Reasons to Buy a Kayak Trolley to see if you are persuaded like we were! Learn how to use a kayak trolley on a boat launch!
Have you ever thought about taking a kayak fishing vacation? California is a great destination! See what it has to offer kayak fishermen, here!
Comments
Do you have any questions regarding KFC's Standard Kayak Trolley article or kayak fishing in general? Please share with the rest of the KayakFishingCorner community by posting in the Comments section below.