Top 3 Kayak Trailers for Kayak Fishing
Before digging into our analysis on the Top 3 Kayak Trailers for Kayak Fishing, we suggest you visit our Fishing Kayak Trailer Ultimate Guide. KFC has spent countless hours evaluating the numerous styles of kayak trailers on the market today. It was quickly apparent that over the years, and due to the surging popularity of kayak fishing, kayak trailers have begun to enter the market with increasing frequency. Many kayak trailers are specifically built for transporting more than one kayak. Some for transporting the kayak by SUV.
Please note: This post contains affiliate links. An affiliate link means that we may earn advertising/referral fees if you make a purchase through our links.
Other kayak trailers are specifically built for kayak fishermen who transport their fishing kayaks by truck. We have decided to write this post because so many KFC readers have written in to us requesting our analysis of, and opinion on, the Top 3 Kayak Trailers for Kayak Fishing.
To begin, we collected and reviewed materials provided by a several kayak trailer manufacturers and retailers, and then isolated the list to include only a small number of kayak trailers, those clearly designed for kayak fishing. Lastly, we argued and debated over that list to further narrow it down to solely the Top 3 Kayak Trailers for Kayak Fishing.
If you are in the market for not just any old kayak trailer, but a kayak trailer best suited for kayak fishing outings, you simply cannot go wrong by purchasing any of the kayak trailers we've included in the Top 3 Kayak Trailers for Kayak Fishing post below. Enjoy.
Unbiased Review
First, as an Amazon Associate, I earn from qualifying purchases.
All kayak fishing product reviews you find on KayakFishingCorner.com are founded upon KFC's independent investigation and review. I have established the expertise necessary to thoroughly review these kayak fishing products, and go about conducting my work very seriously and steadfastly.
KFC will never provide a certain company or manufacturer preferential rankings or publish misrepresentative or inaccurate reviews, and I assure you that I evaluate every kayak fishing product on an unbiased playing field. In this post, I want you to read about the Top 3 Kayak Trailers for Kayak Fishing.
Questions about how I evaluate kayak fishing products? Please send me an email and I'll respond back to you as expeditiously as I can. I hope you enjoy this article as much I have enjoyed drafting it!
Top 3 Kayak Trailers for Kayak Fishing: Introduction
There are many kinds of kayak trailers on the market, and many of them are of great quality. This post on Top 3 Kayak Trailers for Kayak Fishing doesn't only focus on the quality of the kayak trailer, it focuses on the kayak trailers that are truly the best for kayak fishing purposes. Kayak fishing is a specialized sport, and it makes sense to get a specialized kayak trailer.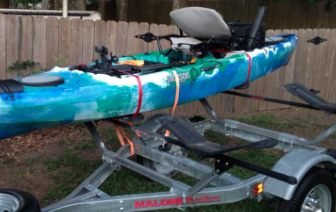 But why won't any old kayak trailer work? Well, a normal kayak trailer would work, but a normal kayak trailer isn't going to have the additional storage space necessary for bringing along all of your kayak fishing gear. A normal kayak trailer isn't going to have room for storage and transportation of your kayak fishing rod and feel. Nor will a normal kayak trailer have the rigidity required to handle the extra weight of the fishing kayaks, or the durability to repeatably handle the bumpy roads encountered on your way to your kayak fishing destination.
My Experience
I knew it was time to get a kayak trailer specifically designed for trailering fishing kayaks when I realized that I simply didn't have the space in my vehicle to store and transport all of my kayak fishing gear. There had to be an additional place to keep some of my kayak fishing gear – I simply couldn't bring myself to leave any of my favorite items behind!
Top 3 Kayak Trailers for Kayak Fishing: Our Picks
(Commissions Earned)
Before you point out that you only own one fishing kayak, and don't need a double kayak trailer, allow KFC to point out that this model features removable kayak racks. That's right, you can store your fishing kayak on one side, and use the space left over on the other side for the storage of your kayak fishing gear.
Making the decision to upgrade your kayak fishing addition and deciding to purchase a second fishing kayak? Well, you won't need another kayak fishing trailer. The versatility of this particular kayak trailer earned it high marks in KFC's Top 3 Kayak Trailer for Kayak Fishing research. This kayak trailer is constructed of a galvanized steel frame, featuring a heavy-duty steel axle, with 8 inch diameter high speed wheels, and leaf spring suspension for a comfortable ride.
Its padded kayak racks secure your fishing kayak with 12 foot long, heavy duty load straps, and the kayak trailer comes with all required mounting hardware.

No matter what, if you decide to purchase a kayak trailer other than one included in KFC's Top 3 Kayak Trailer for Kayak Fishing post, make sure you purchase one that comes with mounting hardware.
This isn't something you want to purchase in the aftermarket. The kayak trailer's "tongue", the long narrow connector from the main body of the kayak trailer to your vehicle's trailer hitch, is two pieced, reinforced, and extended to allow for plenty of distance between the fishing kayaks and your back windshield. The included electrical, high quality hitch, fail safe chains, and 275 pound capacity make this kayak trailer ideal for kayak fishing purposes.
I don't know about you, but I want to make sure my fishing kayak doesn't "get away from me", nor allow it to be hit from behind. The features showcased above go a long away in preventing such a tragedy!
(Commissions Earned)
What if you, like us, often times extend your kayak fishing trip into a trip that involves other outdoor activities, like biking, hiking, or camping? The "extended" purpose kayak trailer was considered in KFC's list of Top 3 Kayak Trailers for Kayak Fishing, and you can see from the depiction above, that the resulting fishing kayak trailer recommendation is quite impressive.
The dual racking capability allows you to safely rack your fishing kayaks, while providing additional space for mountain bikes and even camping materials. A natural void is created between the trailered items, ensuring that the fuel efficiency of the vehicle towing this kayak trailer isn't compromised, air simply flows through in an unimpeded manner, a nice touch.
At 64 inches wide, this kayak trailer's crossbars are wide enough to allow you to store your kayak accessories without becoming "crowded". The manufacturer highlights that you can store up to 6 bicycles on the top cross bar, and 4 fishing kayaks on the bottom. 
You'll want to evaluate this kayak trailer's dimensions against the specs of your fishing kayaks and bicycles, but we've found that most KFC reader's have discovered that this kayak trailer suits their spacial needs. The length from the kayak trailer's axle to its trailer hitch is roughly 10 feet and we've received many reports that kayak measuring 16 feet fit nicely on this product.
If you're looking for a kayak trailer that can efficiently accommodate your kayak fishing addiction, while allowing you to take along your other kayak fishing related gear and hobbies, this kayak trailer is the right choice for you. It is smartly designed, built of high quality materials, and comes standard with all the safety features that KFC demands its highly ranked products have. This kayak trailer is a clear choice for inclusion in KFC's Top 3 Kayak Trailers for Kayak Fishing list.
(Commissions Earned)
Multiple Racks; User Friendly Design!
We get it, there is so much kayak fishing gear on the market that often times it is easiest to simply find a product that combines many required elements into one package. That is what we have found in this kayak trailer. Fear not if you do not have 4 fishing kayaks. You can remove, and add back, the kayak cradles to meet your needs. When at full capacity, whether with fishing kayaks or kayak fishing gear, the result is impressive. 
This kayak trailer ranked on KFC's Top 3 Kayak Trailer for Kayak Fishing list because of its versatility and quality. Its marine grade and pre-galvanized steel frame measures an impressive 78 inches wide and 164 inches long, affording the user a reliable base upon which to load his or her fishing kayaks and related gear.
This kayak trailer is designed with 78 inch coated steel cross rails that can be outfitted to fit most attachments, a 2 inch hitch from which to connect your vehicle, and supports loads of up to 350 pounds, allowing you to haul fishing kayaks of up to 19 feet in length, which easily accommodates the size of most fishing kayaks. 
All required kayak mounting gear is included with this kayak trailer, and this is perhaps our favorite thing about this package. Inclusion of this gear takes away the potential error of buying after market products that don't match up perfectly with the kayak trailer itself.
Finally, this kayak fishing trailer is manufactured from high quality materials, includes a mounting handle for ease of attaching the trailer to your vehicle, and comes with an included fail safe chain to provide further assurance relative to the safety of your fishing kayak while under transport on the bumpy roads encountered en route to your favorite kayak fishing destination!
If you are here, you are interested in the best gear in the kayak fishing market. Learn how a Kayak Brush Gripper can set you in front of your competition (just make sure you learn How to Install a Kayak Brush Gripper first)!
Top 3 Kayak Trailers for Kayak Fishing: Conclusion
Didn't find what you are looking for? Check out the wide variety of kayak trailer offerings on the market from Malone Kayak Trailer. If you've decided to take your kayak fishing obsession on the road, it is worth your time and investment to learn about and purchase a kayak fishing trailer that is built specifically for kayak fishing.
This will save you time, and will prove endlessly convenient as your kayak trailer travels with you over the years. KFC is certain that you would be abundantly pleased with any of KFC's Top 3 Kayak Trailers for Kayak Fishing recommendations. Please be sure to write to us and tell us which one you decided was best and how it is performing for you! Looking for something more versatile? Check out The Best All Around Kayak Trailer! While you are here, we've added a few helpful hints for safely loading your kayak onto your trailer!
Interested in learning additional tips and tricks to make sure you are towing your fishing kayak in the safest manner possible? We've added a link to a helpful resource, here!
Comments
Do you have any questions regarding 's opinion on the Top 3 Kayak Trailers for Kayak Fishing or kayak fishing in general? Please share with the rest of the KayakFishingCorner community by posting in the Comments section below.
Summary
Article Name
Best Kayak Trailers for Kayak Fishing | The Top 3 List
Description
If you are serious about kayak fishing, and want to ensure yourself a wide variety of kayak fishing destinations, then its time to consider a kayak trailer built specifically for trailering fishing kayaks. Top 3 Kayak Trailers for Kayak Fishing article provides everything you need to decide which is right for you.
Author
Publisher Name
Publisher Logo