Top 3 Kayak Trolleys for Kayak Fishing
Kayak trolleys are truly multipurpose pieces of equipment. They are capable of transporting a number of watercraft other than fishing kayaks, like canoes for example. Many kayak trolleys are also constructed out of high grade material that allows for them to handle loads weighted far beyond the weight associated with a single fishing kayak. Check out the versatility of the kayak trolley products on KFC's Kayak Trolley Ultimate Guide! This article is meant to focus on kayak trolleys for kayak fishing, how's that for versatility?!
Of course, KayakFishingCorner.com is concerned with finding the best kayak trolleys for purposes of kayak fishing. This narrows the field of kayak trolleys quite significantly, as a kayak fishing trolley is going to require certain features that an ordinary kayak trolley might not have. This KFC post is the culmination of hours of research to identify the Top 3 Kayak Trolleys for Kayak Fishing. We hope you enjoy the post as much as we have enjoyed writing it!
UNBIASED REVIEW
First, as an Amazon Associate, I earn from qualifying purchases.
KayakFishingCorner.com's articles, including this post on the Top 3 Kayak Trolleys for Kayak Fishing, are all based upon KFC's independent investigation. The KFC team is built of kayak fishing experts who have collected the experience required to thoughtfully evaluate all different sorts of kayak fishing equipment and gear.
KayakFishingCorner.com will never provide any retailer or manufacturer with favorable treatment, and we will not author biased reviews. KFC's reviews are based on an investigation that takes place on a level playing field. Our goal is to ensure that every product gets a fair shake and we want the kayak fishing community to trust our judgment and independence.
Parts of a Kayak Trolley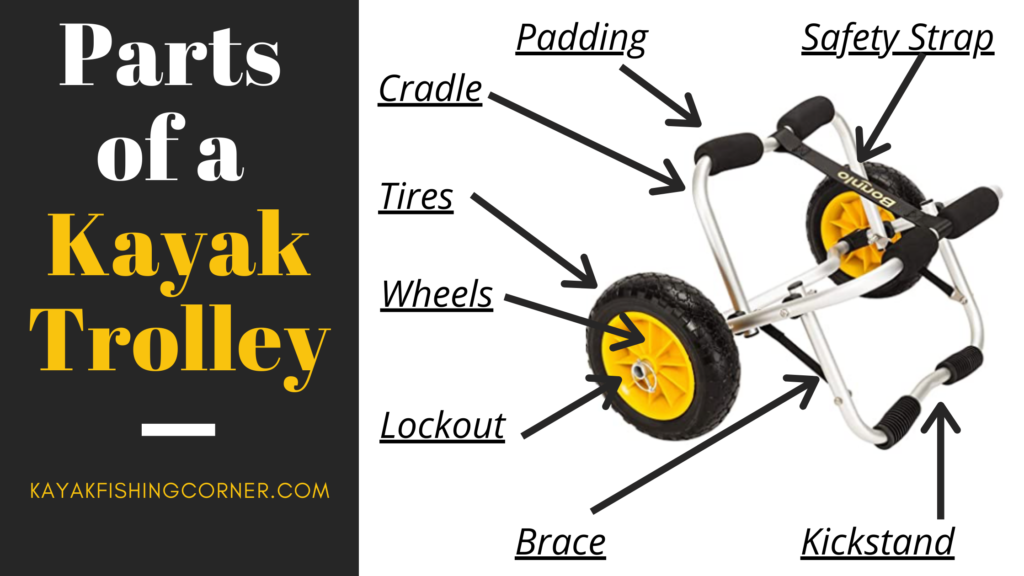 Top 3 Kayak Trolleys for Kayak Fishing: Introduction
Please note: This post contains affiliate links. An affiliate link means that we may earn advertising/referral fees if you make a purchase through our links.
KayakFishingCorner.com is the internet's home for all things kayak fishing. It should come as no surprise that our favorite kind of kayak trolley is a kayak trolley that is perfectly suited for use in kayak fishing. Over time, a significant number of KFC readers have written in requesting our opinion on the best overall kayak trolley for kayak fishing.
We set out to research and isolate the very best of the best. After endless hours, and much debate, the KFC team was so split on a handful of kayak trolleys that we decided it was simply not possible to name a "best overall" kayak trolley for kayak fishing. Doing so simply would not have been fair to the top highly deserving candidates.
So, KFC decided to instead author a post about the Top 3 Kayak Trolleys for Kayak Fishing. Perhaps this is the better approach anyway. Now, we have a handful of options that will align for different preferences of different kayak fishermen. After all, no two kayak fishermen are ever totally alike. Perhaps you believe your kayak fishing style is more tailored to a Sit On Top Kayak Trolley. Or maybe a Sit In Kayak Trolley is a better fit for you. Be sure to write in to KFC and share your opinion with us!
My Experience
I knew a kayak trolley was an essential piece of kayak fishing gear for a number of reasons, but once of which is how helpful I found it to be in terms of transporting my fishing kayak, and the fishing kayaks of others, over rocky traverses. Too many times I would encounter a situation where it simply wasn't safe to try to "muscle" the fishing kayak over a particular path or obstacle. Not to mention to assist another person in doing so.
The kayak trolley was a perfect solution for this problem. But I didn't want just any old kayak trolley. My kayak outings were centered around kayak fishing, and I wanted to make sure that my kayak trolley was up to this task. Perhaps that is when I truly began the background research required to author this post on the Top 3 Kayak Trolleys for Kayak Fishing, because I truly researched the topic to a dizzying degree.
Model #1
(Commissions Earned)
A Great Choice for Kayak Fishing
Constructed of aluminum pipe and anodized stainless steel, the material with which this kayak trolley is constructed is perfect for the variety of weather experiences a kayak fisherman is likely to encounter. This kayak trolley can get wet, dry, and wet again, time and time over without compromising its structure or safety.
The capability to stand up to all different kinds of weather conditions is important, as this directly impacts the strength of the kayak trolley. But the "all weather" capability isn't the only area of "strength" for this kayak trolley. Boasting of a weight capacity of 150 lbs, this kayak fishing trolley is well positioned to handle even the heaviest of fishing kayaks, and in many instances even if those fishing kayaks are weighted down with additional kayak fishing gear!
But what good is strength if you aren't able to maneuver your fishing kayak to your water way? That is where this kayak trolley really earns points towards being named one of our Top 3 Kayak Trolleys for Kayak Fishing. The kayak trolley features extra large (9-1/2 inches in diameter, to be exact) "flat free" wheels, measuring an impressive 3-1/2 inches in width, allowing the kayak fisherman to smoothly navigate across dirt, rocky paths, gravel and even beach sand! I like the beach as much as the next guy, but I don't want to get stuck!
Finally, flexibility and convenience. This is where we knew that this kayak trolley would fit perfectly into our kayak fishing adventures. I didn't use the word "fit" by accident, because we are almost totally maxed out on space with kayak fishing gear as it is! This kayak trolley is easily broken down into a compact size, allowing it to easily fit in the trunk of my car, in the garage closet, or even in the hub of my fishing kayak!
If you are looking for a top of the line, all around great kayak trolley for kayak fishing, this is a great candidate. It was an easy choice for inclusion on our Top 3 Kayak Trolleys for Kayak Fishing, and we hope that those KFC readers who opt to move forward with this kayak trolley will send in their opinions and photos of the trolley. Who knows, maybe they'll make it onto the KFC website?!
Model #2
(Commissions Earned)
The first thing that jumped out to us about this kayak trolley is its unique design. Most kayak trolleys more closely resemble those highlighted first and last on this post. This one is different, and perhaps these differences are its strength and provide the basis for being named one of KFC's Top 3 Kayak Trolleys for Kayak Fishing. Weighing only 10 pounds, but boasting of a weighted load capacity of 300 pounds, this kayak trolley is able to manage the largest of fishing kayaks, even when loaded down with extra kayak fishing gear.
If you look closely at the above, you can see that the kayak trolley includes a kickstand which is ideal for leveling the kayak trolley when loading, unloading, or simply leaving the product at rest. Many kayak trolleys are devoid of such a feature, leaving the kayak fisherman scrambling for a large rock, tree branch, or other placeholder for purposes of propping up the fishing kayak to a level plane. Also, KFC places heightened value on this kayak trolley's tool free assembly – critical for allowing the kayak fisherman to deploy and collapse this trolley with ease.
The image above depicts the adjustability of the arms of this kayak trolley. Why is this such an important feature? Often times a kayak trolley will be used to transport more than just one fishing kayak. Perhaps you own more than one fishing kayak, or perhaps you decide to upgrade in size and quality as your experience grows. Perhaps you kayak fish with friends, and several of your friends want to "borrow" your kayak trolley to move their own fishing kayaks. With the hull of each fishing kayak being a little different in shape and size from the next, having an adaptable kayak trolley is a huge advantage!
What's more? You know as well as we do that kayak fishing destinations often require traversing rocky and dangerous paths. It is easiest to navigate these paths with the use of a kayak trolley, but what good is a kayak trolley if it rests on low quality or easily punctured wheels? A failure of your fishing kayak trolley's wheels could leave you in a jam in a hurry. This kayak trolley earned its spot on KFC's Top 3 Kayak Trolleys for Kayak Fishing due to its included "puncture free" wheels. Take a look at the close up image above. Not only are they puncture free, they also include treading that allow the kayak trolley to perform exceptionally well over dirt, gravel, and even loose sand. Beach anyone?
Model #3
(Commissions Earned)
If you are like me, you want to make sure your fishing kayak stays in pristine condition year round. Buying a kayak trolley is a great way to ensure your fishing kayak's hull remains damage free, preventing you from the temptation of dragging the fishing kayak for "just the last few feet". But what good is a kayak trolley if the arms on the unit aren't adequately padded? If you look closely at the above image, you can see that this kayak trolley's arms feature thick foam padding to ensure that the kayak hull is adequately protected. This is a relative rarity to find in kayak trolleys, and has earned high marks on KFC's Top 3 Kayak Trolleys for Kayak Fishing.
Overtime, the trunk of my car as shrunk, and the garage closet has lost square footage. Well, maybe that's not totally accurate. The reality is that I have continued to amass kayak fishing gear and am slowly running out of room! KFC places additional value on any kayak fishing accessory, like this kayak trolley, that is flexible or capable of "folding flat". This makes bringing the kayak trolley along for the ride a much more efficient undertaking. The best part? No special tools required, and you can break down the unit in just a few moments. That means more time on the water, and less time messing around with your gear!
This kayak trolley has large wheels, both in terms of width and diameter, which allow the kayak trolley to easily handle a number off different surfaces. The V-Necked arms are wide set, over 15 inches wide, which is of suitable capacity to handle fishing kayaks of many different shapes and sizes. Our favorite part of this kayak trolley, and what makes it great for kayak fishing? It comes with 12 feet of heavy duty strapping that is used to secure the fishing kayak to the kayak trolley, making sure that it stays put in its padded arms while under transportation. This manufacturer has ensured that all the bells and whistles are included on this kayak trolley, earning it many points toward being named on KFC's Top 3 Kayak Trolleys for Kayak Fishing.
Pro Tip: If you are here, you are looking for the best of the best in terms of kayak fishing gear. Look into whether Kayak Paddle Grips would be a good add to your collection. We have written extensively about the Best Kayak Paddle Grips, in our opinion!
Top 3 Kayak Trolleys for Kayak Fishing: Conclusion
You've read through the best of the best in terms of the Top 3 Kayak Trolleys for Kayak Fishing. Still not convinced as to whether you even need a kayak trolley? You shouldn't be, and we'd suggest that you take a look at the Top 5 Reasons to Buy a Kayak Trolley before you make up your mind for good. Once you ARE convinced that a kayak trolley is the right piece of kayak fishing gear for you, we suggest you put serious consideration into one of the trolleys highlighted above. Please write in to KFC and share your story as to which kayak trolley was right for you! Looking for something a little more basic? See if the Standard Kayak Trolley could be right for you. Learn how to use a boat ramp to get you, your trolley and your kayak to the water safely and easily!
Can't get enough? Further your knowledge and expertise of kayak fishing by referencing this handy guide!
Comments
Do you have any questions regarding KFC's Top 3 Kayak Trolleys for Kayak Fishing article or kayak fishing in general? Please share with the rest of the KayakFishingCorner community by posting in the Comments section below.