Top 5 Reasons to Buy a Kayak Trolley
Before reading up on KFC's Top 5 Reasons to Buy a Kayak Trolley, we suggest you devote some time to KFC's Kayak Trolley Ultimate Guide, where we have authored a thorough write up and guide as to all things kayak trolley. Once you've furthered your knowledge of kayak trolley products, you'll surely understand why these kayak fishing accessories are so valued by kayak fisherman of all abilities.
But perhaps you are still on the fence about whether a kayak trolley is right for you. Kayak fishing is an expensive hobby, and while kayak trolley products are reasonably inexpensive, relative to other kayak fishing gear, they still range from $50 to $200, and that expense is nothing to overlook. That is why KFC has taken the time to write this Top 5 Reasons to Buy a Kayak Trolley article – To help the undecided kayak fisherman make a decision as to whether to go ahead and purchase a kayak trolley for him or her self.
We think that after you read our Top 5 Reasons to Buy a Kayak Trolley, you'll share our opinion that a kayak trolley is an absolute must, for a number of reasons, and the best time to purchase a kayak trolley is upon purchasing your fishing kayak. Who knows, perhaps you'll even be able to talk a retailer into giving you a bulk discount. After reading this post, we hope you'll write in to KFC and tell us whether you agree with our Top 5 Reasons to Buy a Kayak Trolley, or perhaps whether you have even more reasons than we state here. We hope you enjoy reading this post as much as we've enjoyed writing it!
UNBIASED REVIEW
First, as an Amazon Associate, I earn from qualifying purchases.
Any kayak fishing product you referenced on KayakFishingCorner.com, including within this Top 5 Reasons to Buy a Kayak Trolley article, is featured based upon KFC's independent research and analysis. The KFC team has developed the experience and acumen required to accurately review and evaluate various different types of kayak fishing accessories, gear and related equipment.
KFC has long committed to never feature or showcase any retailer or manufacturer, and we will not write misleading or otherwise inaccurate reviews. All featured kayak fishing products have been judged on a level playing field. All kayak fishing products have equal opportunity to impress, we ensure they get a fair shake, and each has its own chance at being prominently displayed on KayakFishingCorner.com!
Parts of a Kayak Trolley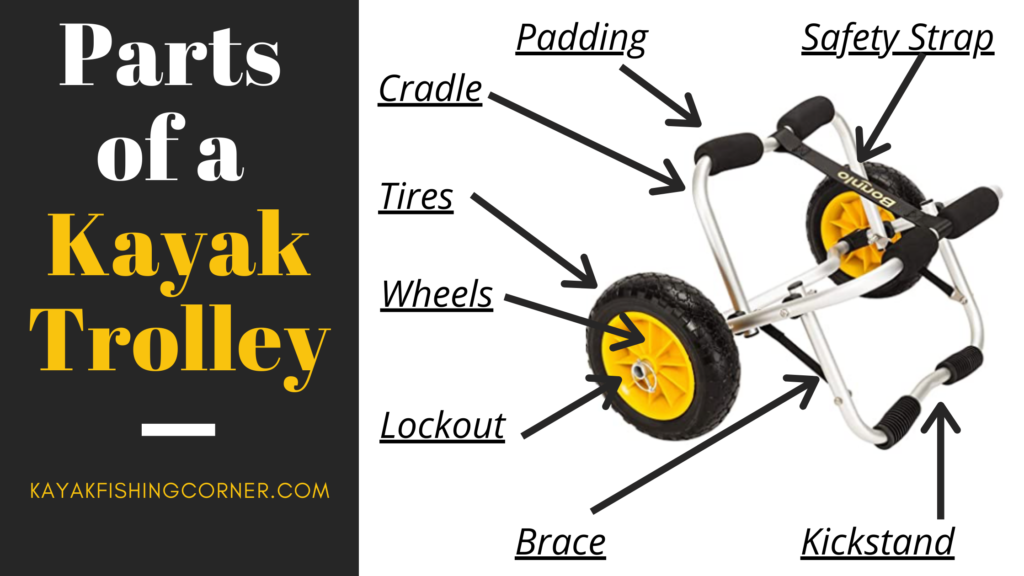 Top 5 Reasons to Buy a Kayak Trolley: Introduction
Please note: This post contains affiliate links. An affiliate link means that we may earn advertising/referral fees if you make a purchase through our links.
You probably already know from having read our Kayak Trolley Ultimate Guide that kayak trolley products come in a number of shapes, sizes, and applications. They can even be referred to by a number of different names! Most commonly, you might hear a kayak trolley referred to as a "kayak cart", a "kayak buggy", a "kayak tote", a "kayak dolly", or even simply a "kayak carrier".
You should know that the KFC team is comprised of kayak fishing traditionalist and loyalists, and for that reason we have elected to continue referring to this particular piece of kayak fishing gear as a "kayak trolley". It seems that only the kayak trolley designation is incapable of being misidentified as some other piece of kayak fishing gear ("kayak carrier" for instance, is a more generic term, equally applying to kayak trailers).
Regardless of the name by which a kayak trolley is referenced, rest assured that this piece of kayak fishing gear is an absolute life saver, regardless of skill level. There are simply hundreds of reasons to absolutely love your kayak trolley, and when KFC was asked to narrow the list to only a Top 5, we knew we were in for a heavy burden. The result is this Top 5 Reasons to Buy a Kayak Trolley article by KFC, and while we've paid special attention to a number of categories of "reasons", please know that some semi-distinct reasons have been collapsed into one global "reason".
If you are reading this post, then you are looking for practical solutions in your kayak fishing experiences! Take a look at how a Kayak Fishing Net can help you land more fish! But first, of course, you'll want to learn How to Use a Kayak Fishing Net!
Top 5 Reasons to Buy a Kayak Trolley: My Experience
I knew it was finally time to buy a kayak trolley of my own after a buddy of mine had an incident (a near miss, really) while attempting to carry her fishing kayak down a rocky and steep embankment near Veteran's Lake in Sulfur, Oklahoma in April of 2015. There had been successive days of recent rainfall, and my buddy slipped on some mud and nearly badly injured herself. She resorted to dropping her fishing kayak to avoid sustaining a major injury! Fortunately, she was not injured, but her fishing kayak was badly scrapped on the bottom and the sides:
We pledged to one another right there that we wouldn't risk injury to ourselves (or further damage to our fishing kayaks!) by attempting to carry our fishing kayaks by hand, especially when we were aware that there were products readily available on the market like kayak trolleys, that would make kayak transportation so much easier, safer and more convenient. A great deal of the research we conducted when making our own decision on what kayak trolley to purchase has been organized (from chicken scratch!) into this Top 5 Reasons to Buy a Kayak Trailer post. We hope you are able to save time by virtue of the research we've already conducted!
Top 5 Reasons to Buy a Kayak Trolley: Reason #1

Safety
If you are a routine reader of KayakFishingCorner.com, you know that the safety of the kayak fishing community is the #1 priority of KFC. You've already read our story about my friend and her near-miss experienced while trying to transport her fishing kayak by hand. Let's face it, fishing kayaks are long, irregularly shaped, and often times are difficult to get a good grip upon. This combination of factors makes transporting a fishing kayak by hand a dangerous undertaking.
A Great Choice
(Commissions Earned)
Kayak trolley products are specifically designed to safely cradle the load of your fishing kayak, with the weight being dispersed over wide set frames attached to heavy duty tires, ensuring that the fishing kayak doesn't inadvertently slip while under transport. This of course keeps the kayak fisherman, and the fishing kayak, safe and sound.
Take a look at the at the kayak trolley above. Like the kayak trolley featured in this image, most kayak trolley products come with heavy duty strapping to ensure that the fishing kayak stays safely nestled into the kayak trolley cradle. Between the angle of the kayak cradle, the reinforced central axle, and the heavy duty security strapping, a kayak trolley is built to insure that its user, and its user's fishing kayak, may travel to their kayak fishing destination in a safe and secure manner.
Top 5 Reasons to Buy a Kayak Trolley: Reason #2

Variety
Sometimes the destination you'd like to kayak fish upon requires you to walk a great distance from the area where you leave your car to the area where you lower your fishing kayak into the water. If this walk is too far, perhaps a half mile, or even further, you might be inclined to pass on the opportunity, simply because transporting your fishing kayak so far is too labor intensive!
Don't forgo an awesome kayak fishing venue simply because the path to get to the water is too challenging. This challenge is easily conquered by a kayak trolley, allowing you to vastly increase the variety of kayak fishing destinations that are accessible to you. The expansion in venues afforded by a kayak trolley secured "variety" its spot on Top 5 Reasons to Buy a Kayak Trolley article.
Top 5 Reasons to Buy a Kayak Trolley: Reason #3
Convenience
Kayak Fishing. Its one of our favorites hobbies. OK, its definitely our favorite hobby. But even we have to admit that it comes with some "issues" which present certain challenges. One of these issues is the logistics associated with moving the fishing kayak long distances on the ground. We used to try to kayak fish in groups of two simply because it was so much easier to carry our fishing kayaks with another set of helping hands. But sometimes, I simply wanted to go out on the water by myself. I needed an extra helping hand, but not necessarily a "human" hand.
The kayak trolley proved to be the helping hand that I was looking for! I couldn't believe how convenient the kayak trolley made my kayak fishing experience! I simply loaded my fishing kayak into the kayak carrier, secured it with the heavy duty straps, and began to pull it to my destination. The best part of all? Once I arrived at the water I didn't have to return to the car to help my friend with kayak #2! I simply folded up the kayak trolley, tossed it in the storage hull, and paddled out onto the water! Thus "convenience" was a no brainer to be included on this Top 5 Reasons to Buy a Kayak Trolley article. Want to learn more about convenience in kayak fishing? Learn how to safely store your kayak trolley and fishing kayak in your garage!
Top 5 Reasons to Buy a Kayak Trolley: Reason #4

Longevity
Fishing kayaks are relatively expensive. One can easily spend upwards of two thousand dollars on a fishing kayak and its related gear. Unfortunately, with the upfront expense, it can be tempting to save money where possible. Perhaps that means skipping out on a kayak trolley. Bad idea! Kayak trolleys are one of the best ways to increase the longevity of your fishing kayak. Why?
As you can see above, kayak trolleys are designed to cradle your fishing kayak at an angle which properly cradles and disperses the weight of the fishing kayak, keeping it from becoming deformed, which is a risk you run by transporting the kayak by a different method. Kayak trolley products also often feature padded kayak cradles, safekeeping the hull of your fishing kayak and keeping it as scratch free as it was on Day 1. We found that a kayak trolley paid for itself quite quickly in terms of increased "longevity", and thats why this feature was included on this Top 5 Reasons to Buy a Kayak Trolley article!
Top 5 Reasons to Buy a Kayak Trolley: Reason #5
Friends
Maybe "friends" could be reason #1 on this Top 5 Reasons to Buy a Kayak Trolley article. Why? Well, not only is it fun to approach the water with several of your buddies and their with their fishing kayaks safely in tow, its fun that the transportation of the fishing kayaks has become a "one man job" rather than a "team effort". Yes, a kayak trolley allows you to be truly self sufficient, and some even allow you to trolley two fishing kayaks at once!
Use your hands for bringing along extra kayak fishing gear, and allow your kayak trolley to do the heavy lifting for you. Kayak trolleys, while small, can handle large loads, and are much more stable than you and your friend working to balance the fishing kayak all while also trying to stay on the path to the water. Finally, make sure you (and your friend!) maintain blister free hands. Avoid the blisters that are sure to follow after trying to transport the fishing kayak by hand!
Top 5 Reasons to Buy a Kayak Trolley: Conclusion
Let's face it, narrowing all the great features of a kayak trolley into just the Top 5 Reasons to Buy a Kayak Trolley was no easy feat. There are simply tens, if not hundreds, of reasons why you ought to consider purchasing a kayak trolley early in your kayak fishing career. Sure, we listed safety, variety, convenience, longevity and friends as our Top 5 Reasons to Buy a Kayak Trolley, but what do you think? Learn more about the Sit On Top Kayak Trolley depicted in the images above!
Please write in to KFC and let us know if you disagree with any of our reasons above. What have you found that you like about the kayak trolley products on the market today? Have you found any that are particularly reliable? Affordable? What about experiences that you or your friends have had while using the kayak trolley? We'd love for you to share your story with us! Kayak trolleys are a perfect piece of kayak fishing gear? Another one of our favorites? The Fishing Kayak Anchor – Once you try it, you'll wonder how you kayak fished without it! Learn how to safely use your trolley on a boat ramp so that you can launch your kayak by yourself!
Want to familiarize yourself with some kayak fishing safety tips? We've added a link to one of our favorite guides, here!
Top 5 Reasons to Buy a Kayak Trolley: Comments
Do you have any questions regarding KFC's Top 5 Reasons to Buy a Kayak Trolley or kayak fishing in general? Please share with the rest of the KayakFishingCorner community by posting in the Comments section below.
Summary
Article Name
Top 5 Reasons to Buy a Kayak Trolley - Reason #4 will Surprise you!
Description
Discover the Top 5 Reasons to Buy a Kayak Trolley. Use these reasons to discover what other kayak fisherman think is important when making the decision to buy a kayak trolley. Is the trolley built for the beach? Can it be collapsed for easy storage? Find out which kayak trolley is best for you!
Author
Publisher Name
Publisher Logo