TROLLING MOTOR BATTERY BOX: INTRO
You probably know that trolling motors are powered by batteries, but do you know the best way to protect your battery? A Trolling Motor Battery Box! If you aren't familiar with trolling motors, much less battery boxes, we suggest that you take a look at our Trolling Motor Ultimate Guide.
The Ultimate Guide will get you up to speed in a flash and will provide you with the working knowledge necessary to evaluate what kinds of trolling motor battery boxes might be a good fit for you. We have even ranked The 5 Best Kayak Trolling Motors for you! Ready to learn more?
Trolling Motor Battery Box: Guide
First, As an Amazon Associate I earn from qualifying purchases.
This KayakFishingCorner.com post contains all of the important details about the standard Trolling Motor Battery Box. To make sure we convey these details in an organized and easy to follow manner, we have broken this post down into a number of different categories. We start by going over some very basic information about trolling motor battery boxes – What are they? Are they expensive? What are they used for? Where are they installed? And so on. After that we have included a short "how to" checklist that will walk you through some of the steps necessary for the installation of such a battery box. It also includes some steps about how to use it while kayak fishing.
Because there are a number of quality trolling motor battery boxes on the market, we have included a guide of the top 3 features that you need to look for when you are deciding which battery box is right for you. We go into detail on each of these features to help you understand why each of them is important. We have also included a link to the product page of one of our favorite trolling motor battery box products on the market. The product page contains additional photos and information that we may not have addressed as fully as you desire within this post (after all, we can't write everything)!
We've even included a short summary that details of our experience when using these particular model of trolling motor battery box. We like to learn from other people's personal accounts – hopefully you are able to learn from ours. Oh, and be sure to post and thoughts or comments on the Comments board at the end of this page – we love hearing from the kayak fishing community!
Parts of a Kayak Trolling Motor
Trolling Motor Battery Box: The Basics
Please note: This post contains affiliate links. An affiliate link means that we may earn advertising/referral fees if you make a purchase through our links.
A trolling motor battery box isn't a tremendously difficicut piece of kayak fishing gear to conceptualize. It is exactly what it sounds like – a box into which a trolling motor battery is placed for convenience and safe keeping. Most have a capacity that will hold either three 7Ah batteries or two 12Ah batteries.
It is safe to say that the "tech-wave" has hit this piece of kayak fishing gear as well, as these aren't your grandfather's battery boxes! Most models now come with an integrated USB interconnectivity allowing you to charge your various 12-volt accessories. For instance, most smart phones (including the iPhone) can be charged via connection to the commonly included USB ports. Many even feature double USB ports for extra capacity!
Many models come with some kind of "track bar" system and/or strapping that are designed to keep the battery box from sliding around while the kayak fisherman is traveling over tough waters. Other methods of keeping the battery safe are attempted via the commonly found inclusion of "egg crate" lining to the inside of the box, softening the impact of any hard bumps upon the battery.
How to Use Properly
What good is buying even the best trolling motor battery box if you don't know how to use it? Not very good at all! We like self explanatory kayak fishing products, and this one certainly fits that description!
Even though we suspect that you'll be able to figure it out rather quickly, we've included the short checklist below that will serve you as a helpful guide in learning how to properly install and use most models of trolling motor battery box. Of course, you'll want to defer to your owner's/user's manual because every box is just a little different than the next. That said, the steps outlined below are pretty universal in their application among battery boxes. Let's get started!
Remove the trolling motor battery box from its packaging. You will need to use scissors or a knife to cut through the tape, but be sure not to cut too deep as you'll risk scraping up the outer plastic of the box.
Locate the two hinges on the front of the box.
Test the hinges and clasps to make sure the box opens, closes and latches properly.
You should find instructions on top of the interior egg crate lining (this lining is found on most, but certainly not all, models of battery box).
Locate the charger.
Locate the strap and track bar at the bottom of the box. You'll want to slide the track bar back and forth to ensure that it glides easily.
The strap will hold the battery down while the track bar allows for customization of different width of batteries.
You will see red/black cables that have plugs on one end, and which connect to the interior wall of the trolling motor battery box on the other.
Ensure that the protective coating on the wiring appears to be sound and that the connection to the interior wall is flush.
The cables connect to the two USB ports and the main power (on/off) switch.
Now you can place batteries into the battery box, being sure to leave the cables unconnected and resting atop the batteries.
Strap the batteries down with the strap. Pull snuggly.
Now you'll want to connect Red to Red and Black to Black.
After ensuring a tight connection, close the lid and secure the latches.
That's it! Now you merely need to turn On/Off to send power to the various accessories that you decide to attach to the battery box!
Trolling Motor Battery Box: Important Features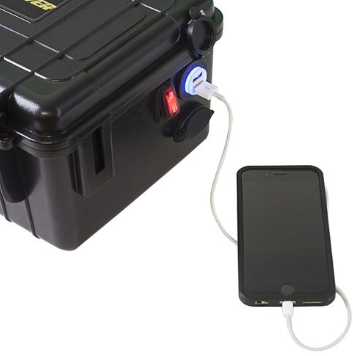 There are two different kinds of trolling motor battery boxes. One will hold smaller batteries that can be used to power a number of different kinds of electronics (like we depict above). The other will hold larger batteries that are designed to power trolling motors and other larger devices.
Fortunately for us, there are several different manufacturers of each kind of box, giving us plenty of options to choose from. Of course, just because there are a number of options doesn't mean that you "can't go wrong". Be sure to buy a trolling motor battery box that includes each of the top three most important features that we detail below. The combination of these three features will set you and your battery box apart from the other kayak fishermen on the water!
Proper Size and Charging Ability. You need to determine whether you are desiring to power a trolling motor or some other accessory. If you are powering something other than a trolling motor, you will only need 12Ah batteries (or something similar). This will require a box measuring only ~10 inches by ~10 inches in size. If you are desiring to power a trolling motor, then you'll need a box that can accommodate 24 Series, 27 Series or 31 Series batteries (see image below):
If you are looking for smaller models, you'll want to find a battery box that comes with an external power charger. Believe it or not, some of the "cheaper" models of battery box actually do not come with this included, leaving you to search elsewhere to try to come up with a comparable product. Trust us – it is not worth the savings, just buy a "package deal" and save yourself the trouble! See the example of the external power charger below.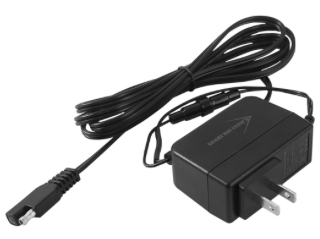 External Dual USB Charging Port. Why buy a trolling motor battery box if you aren't going to buy a model that comes with the latest technology?! Let's face it, there is going to be a little extra cost associated with a battery box that has USB interconnectivity, but think of the convenience (not to mention safety) that this feature affords you! Take a look of an example of this feature in the image below:
We are always quick to suggest that our readers look for a model that has dual USB ports. This will allow you to charge your iPhone and plug in your GPS enabled trolling motor at the same time! Finally, find a model that has a simple (and easily accessed) On/Off switch. You'd be surprised how many low quality models have located the power switch such that it is located under the battery or even the battery box! Not convenient and even potentially dangerous!
Stability and Protection. We mentioned it earlier, but batteries are not cheap (especially trolling motor batteries)! If you are going to spend the money on a nice battery, you need to consider the incremental cost of protecting it with the best trolling motor battery box on the market!
A battery box has 4 layers of protection. The first is the "egg crate" padding inside of the box that aides in cushioning the battery from hard bounces or wakes. the second is the track bar that allows for the customization of the strapping (the third layer) to hold different sizes of battery. The third layer is the strap itself. The strap should be pulled tight to keep the battery from sliding from side to side inside of the box. The strongest straps can hold down 350 pounds of force (complaint with U.S. Coast Guard Specifications). The fourth, and most obvious, is the hard outer shell of the trolling motor box. Many are built from polypropylene.
Buy the Best Trolling Motor Battery Box (Our Two Favorites)
(Commissions Earned)
We are particularly fond of the battery box linked to above for all uses other than powering a trolling motor battery (for trolling motor batteries, see the box below). The lightweight design can hold up to three 7Ah batteries or two 12Ah batteries. Either model of battery would work for powering or charging a number of your 12v accessories (like your iPhone). The unit also comes with dual USBs just in case you are Tandem Kayak Fishing and your co-occupant needs a charge too!
The battery box comes with an external charger (remember, this is not always the case) and, as should go without saying, the box is fully water proof! The manufacturer has also included quality strapping and a track bar design that will keep your battery nice and secure while you are traveling the waters in search of the next big catch!
(Commissions Earned)
If you are looking for a trolling motor battery box that is perfect for holding your kayak trolling motor battery, you've found it. This heavy duty model can perform in temperatures ranging from -20°F to +120°F, and I highly doubt you'll be kayak fishing beyond either of those extremes!
Its included straps can withstand 350 pounds of force and its 24, 27 and 31 capacity offerings provide a range of sizes to house your exact make and model of trolling motor battery. We like that the box has large handles (makes for much easier carrying) and rolled edges (mush less painful on your shin if you accidentally run into it – personal experience)! Also, its outer shell is made of a super hard polypropylene that provides assurance of durability in even the hardest of external impacts! The 24 and 27 Series include 4 cable openings, with the 31 series offering 8! This should be more than enough to power nearly any motorized fishing kayak!
My Experience
Not every kayak fisherman wants to "bring technology" on board their kayak with them. Yes, it is true that bringing along a battery will invariably bring along the technology that comes with it, but this isn't all bad! I will admit that I was one who resorted to kayak fishing to "get away" from the fast paced, technologically driven world. What I found, however, is that a trolling motor battery (and the trolling motor battery box) do not take away from my enjoyment on the water, in fact, quite the opposite!
I use my trolling motor battery to power any number of pieces of kayak fishing gear. Perhaps my fish finder needs a little boost. Perhaps my GPS is in need of a charge. A battery aboard the kayak is a tremendous asset in these situations! Same story with a kayak trolling motor. These pieces of equipment must, of course, be powered by a kayak trolling motor battery! I suspect that you will feel as I do after you give the presence of the battery a try.
And remember, once you bring a battery on board, you need to consider protecting it with one of the top of the line trolling motor battery boxes that we've highlighted above (or any number of other high quality models currently available on the market)! Let us know what you think!
TROLLING MOTOR BATTERY BOX: CONCLUSION
You've made it all the way to the end! We hope this article has served you as a helpful resource in learning all about the trolling motor battery box and its critical features! These type of battery boxes are critical for so many reasons and, at the end of the day, the relatively small incremental cost for a battery box is well worth the protection that it provides to your trolling motor battery and the convenience it provides you as a kayak fisherman!
Remember, if you have made it to this point in the post and find that you still have questions about whether a trolling motor battery box is right for you, we welcome and encourage you to post on the Comments board below! KFC's Comments board is witnessed by literally thousands of your fellow kayak fishermen and we are certain that if we can't answer your question, one of them can! We love fostering an environment for collaborative discussion among the kayak fishing community and we look forward to hearing from you soon!
Have you ever thought about participating in a kayak fishing tournament? Learn more, here!
Comments
Do you use a trolling motor on your fishing kayak? Where do you keep your battery? Have you noticed that kayak fishermen who keep their trolling motor batteries tucked away in battery boxes are rewarded by better performance and longevity of the battery? Do you have any tips or tricks that you'd like to share with us? How about sharing a story about your experience installing the battery and battery box in the kayak? Please share with us! We love interacting with fellow kayak fishing enthusiasts!