BEST KAYAK TROLLING MOTOR: INTRODUCTION
Kayak motors are one of KayakFishingCorner.com's all time favorite pieces of kayak fishing gear. As we explain in our Kayak Trolling Motor Ultimate Guide, these kayak fishing accessories are the perfect way to get you from Point A to Point B on the water without having to worry about tiring yourself out by paddling a long distance!
With so many on the market, how can you be sure that you are buying the best kayak motor? You could just out or review of The 5 Best Kayak Trolling Motors! Or, this KFC article could be the perfect resource for setting your mind at ease in terms of the best of the best!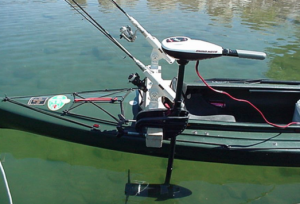 Best Kayak Trolling Motor: Overview
First, as an Amazon Associate, I earn from qualifying purchases.
Kayak motors are a critical part of the kayak fishing experience. It is extremely important that you buy your kayak motor right the first time. We know it can be tempting to try to save a few bucks by purchasing one of the less expensive kayak trolling motors that you might find on the market. Trust us – Doing so will only cost you more money in the future, as these less expensive (and lower quality) units have shortened durability and sketchy reliability. Better to go with a kayak motor that has high marks in reliability, performance, and durability. Better to go with a kayak trolling motor like the one designated the top kayak trolling motor by KayakFishingCorner.com!
In this article, KayakFishingCorner.com has organized numerous hours of research into a concise format, all in an effort to help you learn about what we are certain is the top kayak motor on the market today.
We've included all of the important details about the best kayak motor, and have separated into logical categories, including how to use this particular kayak trolling motor, features included with this the best kayak motor award winner, and even an article describing our own experience with this specific trolling motor. Finally, for those convinced that they'd like to learn more about the award winning best kayak motor, we've included a link to where you can further your research and even decide to buy the trolling motor for yourself!
UNBIASED REVIEW
KayakFishingCorner.com authors kayak fishing reviews that are founded upon KFC's unbiased investigation. We review every kayak fishing product on a level playing field. Each review you see posted on KayakFishingCorner.com is written to aide KFC readers in finding the best kayak fishing products for their own kayak fishing experiences.
Here, we have showcased what we are certain is the absolute best kayak motor!  Any questions about how KayakFishingCorner.com reviews the products that we choose to showcase on this kayak fishing community? Send us a note. We will get back to you fast!
Parts of a Kayak Trolling Motor
Best Kayak Trolling Motor: Basics
Please note: This post contains affiliate links. An affiliate link means that we may earn advertising/referral fees if you make a purchase through our links.
One of the first questions we asked we seeking to find the best kayak trolling motor was "how fast can it propel me?". Speed, when discussed in the context of kayak trolling motors, is measured in pounds of thrust. Because "thrust" is such an important part of the kayak motor package, let's make sure we understand what it means.
Thrust is measured in pounds, and it can be defined as "to push something with force". Pushing is exactly what the kayak motor is doing. We have included an illustration to help show what the kayak trolling motor's propeller is doing below the water's surface.
This manufacturer, in addition to the 55 pound model we showcase in this post, makes kayak trolling motors of 36, 46, 62, 86 pounds. We have showcased the 55 pound model because it is smack dab in the middle of the product offerings. Also, we have found that it provides sufficient power for most kayak fishing purposes, without putting too much drain on the battery.
How to Use the Best Kayak Trolling Motor
To get started, attach the kayak motor to the hull of your fishing kayak by using a product known as a kayak trolling motor mount. The mount typically comes with all required mounting hardware.
You'll want to locate the trolling motor's handle towards the rear of the kayak. We like putting it on the side aside as our dominant arm, providing quick access to control our direction and speed.
Next, safely connect the kayak motor to the trolling motor battery which will be used to provide power to the unit.
Safety first! Use caution to keep all wires and any cables stowed in a safe and out of the way area. Typically we run our cables underneath the top of the kayak's hull.
Once you get the kayak to the water, lightly twist the handle. This twisting will make the propeller turn.
Check that the propeller turns clockwise and counter clockwise, as this is required for forward and reverse movement.
Be certain that the kayak trolling motor mount isn't sliding or twisting when the propeller is provided power.
Then, confirm that the shaft of the kayak motor isn't flexing too far when power is supplied. You'll also need to check the shaft's length to make sure the shaft isn't too deep for the waters that you intend to kayak fish.
Always remember to be mindful of your supply of battery power. You can check the levels by using the gauge located on your battery or the trolling motor's display.
Keep ample charge to traverse back to shore after you've finished your kayak fishing trip!
Best Kayak Trolling Motor: Important Features
One of the nice features of this particular kayak trolling motor is its durable and fully enclosed motor head. It is constructed of 100% aluminum, and is built to stand up to an active kayak fisherman's style. Kayak trolling motors are situated several feet below the hull of the fishing kayak, exposing them to being inadvertently run aground. This kayak motor can sustain such an impact without breaking down on you!
The included LED battery meter, depicted in the image below, shows 5 levels of charge so that you can be completely aware of how much more juice you have in your unit. Many of the cheaper kayak trolling motors on the market lack such a feature, and we've heard horror stories of kayak fishermen being very far from shore when their charge runs out!
To be named a best kayak trolling motor, a product cannot leave its user questioning the unit's charge. This model of kayak trolling motor removes the guess work and provides great piece of mind!
Ok, now for the main event. Speed and control! Our best kayak motor recommendation can move the average size fishing kayak at roughly 4 miles per hour. The larger size models, such as the 86 pound model, can move you even faster! This is far faster than the speed that an average kayak fisherman can paddle his or her fishing kayak over long distances!
Most importantly, this kayak trolling motor can deliver this blazing speed while still "running quiet". What good is a kayak trolling motor if it is so noisy that it disturbs the fish and chases them away from the fishing kayak!? Sadly, many of the lower tier models of kayak motor do not "run quiet", and we suspect that is why so many purchasers of these low tier models mention that the fish seem to be scared away from them! With this best kayak trolling motor recommendation, the fish will not be disturbed!
What about the shaft? This unit is built with a 30 inch long shaft, constructed of composite fiberglass. This material is very strong and rigid. The composite fiberglass is critical to ensure that the kayak motor can stand up to choppy water conditions and multiple seasons of use. What's more? The shaft is adjustable and telescopic, meaning that it can be raised up and down and titled back and forth to ensure an appropriate depth and angle!
Finally, KFC wouldn't feel right about designating this kayak trolling motor as the best kayak trolling motor if it didn't have variable speed capacity. This unit is 8 speed. 5 of the speeds move the unit forward, and the other 3 speeds move the unit backwards.
The ability to go forwards and backwards is critical to any kayak motor, as it exponentially increases the variety of fishing locations that can be fished without concern about getting too far up a creek, or too close to the shoreline, without the ability to quickly reverse course and move to safer waters.
Finally, this kayak motor is equally at home in fresh water, like you;ll find at the lake, and salt water, like you will find when kayak fishing on the ocean! We love that this kayak motor is so versatile, as we are always quickly to suggest that the kayak fishing community try out different bodies of water as often as they can! (For helpful tips about moving your fishing kayak along sandy shorelines, check out the KFC article on the Kayak Beach Cart).
Buy the Best Kayak Trolling Motor
(Commissions Earned)
Your Best Choice for Kayak Fishing
This trolling motor wouldn't be named as the best kayak trolling motor by KayakFishingCorner.com if it didn't tick all of KFC's strict requirements. As you've read about above, this trolling motor is capable of delivering complete maneuverability with its forward and backward motion abilities, and its freshwater and saltwater capabilities are perfect examples of the dual use we love to find in our product recommendations!
Most importantly, the durability of this particular kayak trolling motor model scores high marks. We've learned of countless testimonials attesting to this trolling motor's durability over many seasons of heavy kayak fishing use. These testimonials match with our own experience. The trolling motor is also capable of performing in the coldest months of an Oklahoma winter, while withstanding some of the hottest summer days. Simply put, if you want a kayak trolling motor that you can rely upon for many seasons to come, regardless of weather and temperature conditions, then our awarded top kayak trolling motor model is the choice for you!
My Experience
It had only been a couple of weeks since I saw my first kayak trolling motor. I write about that story, which is definitely worth a quick read, in KFC's Kayak Trolling Motor Basics article. I knew that I was tired of getting beat to the best fishing holes because other kayak fishermen had faster kayaks, more efficient paddles, or had better stamina than me on the water! The kayak trolling motor was going to give me an edge, and I knew it!
But where to start? I couldn't just buy any old kayak trolling motor. I wanted one that was going to last me several seasons. I wanted one that was going to work equally well in salt water as it would in freshwater, I wanted a kayak trolling motor that could go forwards, backwards, and had the capacity to be under power for extended periods of time!
After scouring the local fishing shops, boat shows, marinas, and looking all over the internet, it was clear that my research was pointing me to one particular kayak trolling motor. It checked all of my desired boxes! I knew I had to have it, and I knew that, while marginally more expensive on the front end, this kayak trolling motor wasn't going to let me down when it mattered most! It is, beyond a doubt, the #1 kayak trolling motor!
SCORES
Quality – 5/5
Quality is one area where we feel confident ascribing a perfect 5 out of 5. This kayak trolling motor is made of high quality components which can handle fresh and saltwater alike. Its fully enclosed motor head is constructed of 100% aluminum, ensuring that it is built to stand up to an active kayak fisherman's style! Also, we've inadvertently run our trolling motor aground and found that the shaft did not snap or bend. Of course, we do not suggest that you intentionally run aground but, at least in our experience, you'd be OK if you accidentally did.
Performance – 4.5/5
The performance of this kayak trolling motor is second to none. With 8 speeds (5 forward and 3 reverse) you can control your fishing kayak with unparalleled accuracy and direction. The 55lbs of thrust is perfect for efficiently moving you along the water without risking an overheating. Finally, the manufacturer has gone to great lengths to make this unit "whisper quiet" which is important for ensuring that you don't disturb the fish in your immediate area!
Price – 4/5
Kayak trolling motors are going to be one of the more expensive pieces of kayak fishing gear in your collection. We've discovered that you can find trolling motors for as cheap as $75. You can also spend upwards of $1,000. This is one area where you do not want to "save a few bucks" by purchasing a lower quality model. Lower quality models are cheaper, but are inherently less reliable, putting you at risk for a breakdown and a stranding in the middle of the lake! That said, there is no reason to spend more money than you have to, and our suggested kayak motor can usually be found for $150 – $350. Its worth it!
Durability – 4.25/5
Durability is arguably the most important part of any kayak trolling motor. After all, you are relying on this motor to get you from Point A to Point B, but also to allow you to carefully navigate in tight channels and in conditions that require a lot of finesse. We've used this kayak motor in moderately sized waves (in the Gulf of Mexico) and in swift moving streams (in the Illinois River) and were very pleased that it held up to each challenge without any deterioration in performance or durability. We just wrapped up our 4th season with this trolling motor and are pleased to say that it has stood up to the test of time and paid for itself multiple times over, all with very little required maintenance!
Overall – 4.4/5
Coming in at an average score in excess of 4.4 out of 5, you can tell that we are very fond of this particular type of kayak motor. We are certain that its quality, performance and durability have made us better kayak fishermen from Day 1. It is a piece of kayak fishing gear that we are quick to recommend to kayak fishermen of all levels of skill and experience. The installation of the trolling motor to a kayak trolling motor mount is a breeze (about 15 minutes). Better yet, if you want to remove it for a certain trip while you navigate with paddles rather than a motor, simply remove it from its motor mount and then easily reattach at a later date. We love the versatility!
BEST KAYAK TROLLING MOTOR: CONCLUSION
I hope this post has helped you learn more about what we know is the #1 kayak motor on the market! Remember, if you have questions about our designated #1 kayak motor model, be sure to comment towards the bottom of this page, we'd love to help out! Kayak trolling motors are one of our favorite pieces of kayak fishing gear! They help kayak fishermen traverse difficult waters with ease, and save us from aching muscles associated with paddling for long distances!
Remember, the #1 kayak trolling motor, like all kayak trolling motors, is a package deal. You need the kayak trolling motor, of course, but you'll also want to buy a kayak trolling motor mount, and possibly the kayak trolling motor battery, before you head out onto the water.
Look, there are several different kayak trolling motors on the market. KFC has extensively investigated tens upon tens of kayak trolling motors, and has determined, completely free from bias, that the kayak trolling motor named by this #1 Kayak Trolling Motor KFC post is the best of the best! We hope we've covered its features appropriately, but if you have any questions we would be happy to answer them for you. Send us a note!
Want to learn about other pieces of kayak fishing gear? Now that you've learned about the top kayak trolling motor, why not take a look at the best kayak outrigger. Kayak outriggers go great with trolling motors. They'll help keep you balanced! Learn more about the origins of this particular kayak fishing accessory!
Think you are ready to compete in a kayak fishing tournament? Take a look to see if there is an upcoming one in an area near you!
Comments
Do you have any questions about why we feel this is the best kayak motor? What about questions surrounding kayak fishing in general? Please share with the rest of the KayakFishingCorner community by posting in the Comments section below.