Best Kayak Trolley
All things considered, kayak trolleys are relatively new pieces of kayak fishing gear. Recently, however, they have been entering the marketplace with greater frequency. The rapid development of new kayak trolley styles, including those made with different shapes, sizes, capacities, and even materials, prompted us to reevaluate the kayak trolley market, with an eye towards kayak fishing, all in an effort to find the undisputed Best Kayak Trolley.
The results of that search are included in this Best Kayak Trolley post. We hope you enjoy reading it as much as KFC's team has enjoyed writing it, but before you dig in, we would suggest that you take a look at our Kayak Trolley Ultimate Guide, where we have written an all encompassing article for all things kayak trolley.
UNBIASED REVIEW
First, as an Amazon Associate, I earn from qualifying purchases.
KayakFishingCorner.com reviews, including this review on the Best Kayak Trolley, are founded upon KFC's independent research and analysis. At KFC, we have amassed the expertise and industry knowledge required to review all different types of kayak fishing equipment, products, and gear.
We pledge to never author biased rankings, feedback or reviews. We avoid misrepresentative and otherwise inaccurate content. Our analysis and opinions are offered with a level playing field. Earning the trust of the kayak fishing community is our first and foremost goal.
Parts of a Kayak Trolley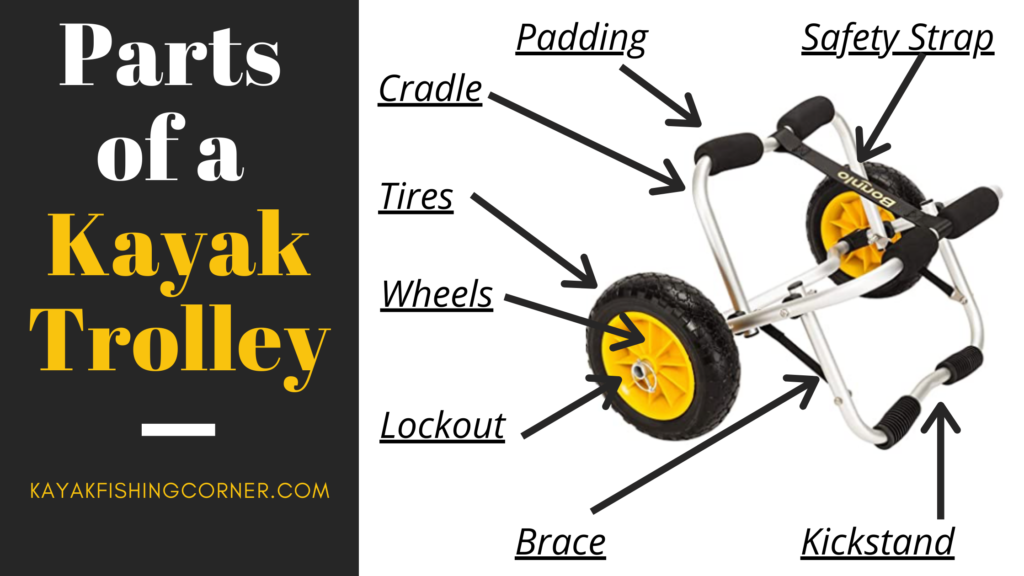 Please note: This post contains affiliate links. An affiliate link means that we may earn advertising/referral fees if you make a purchase through our links.
Best Kayak Trolley: Introduction
(Commissions Earned)
The first thing that caught KFC's eye when evaluating the hundreds of kayak trolley products on the market was how similar they all appeared to be. Most were the Sit on Top Kayak Trolley style. Others were the Sit In Kayak Trolley style.
There was very little, if any, difference among tens of them, and perhaps that is why we found the trolley depicted above to be worthy of the Best Kayak Trolley designation. You see, its makers have gone out on a limb with its design. Admittedly, this was a risk. But here, their risk has been rewarded.
My Experience with the Best Kayak Trolley
I was immediately surprised just how well this kayak trolley performed right out of the box. Not only did it have a stylish and flexible design, it had the functionality I required for my kayak fishing experiences. You see, when I kayak fish, I nearly always travel to a remote body of water. This, of course, often leaves me with with great distances to travel between the parking lot and the water access point.
The trolley was my only solution. But not just any trolley, I needed the Best Trolley, and the trolley depicted above was perfect for my kayak fishing needs. I found that I appreciated it more and more each time I used it. Strangely, with each new outing, I determined that a different feature had to be the one that made this kayak trolley worthy of a Best Trolley designation. Below I have listed only a number of my favorite features, as to include every single one of them would result in too long of a post!
Flexibility
You probably aren't surprised that I've included the flexibility of this kayak trolley as one of the reasons that it is the Best Kayak Trolley, and if you've read our Top 5 Reasons to Buy a Kayak Trolley, you'd know that there are a number of different ways that "flexibility" can be appreciated. Here, as you can see above, we are referring to the ability of this trolley to adapt to fishing kayaks that feature many different shapes and sizes of hull.
Notice how the adjustable arms are topped with a rubberized padding. This material is just sticky enough to keep your fishing kayak from sliding forward or backward while under transit.
Occasionally, when the padding is exposed to sun for an extended period of time, or during periods of colder weather, the padding loses its adhesiveness, but the included heavy duty strapping will ensure that the fishing kayak doesn't meander too far. See the close up image of the strap above.
Wheels
It is the heavy duty, treaded wheels included with this trolley where this piece of kayak fishing gear really gets its traction! I have used my trolley on a seemingly endless number of surfaces and have been pleased to find that it easily navigates them all. Even sand at the beach! I'm certain this is due to the kayak trolley's puncture free wheels with tacky grip and rubberized treading.
And its a good thing these wheels are so strong, as the trolley boasts of a loaded weight capacity of 300lbs! That's certainly heavier than any fishing kayak I have ever heard of! As you can see above, this allows for the kayak fisherman to load a number of pieces of gear into the fishing kayak and move several items safely and efficiently at once. Dual uses earned this trolley points towards the Best Kayak Trolley designation!
Convenient Design
The image above shows one of my favorite features of this trolley. The included kickstand! I was shocked to see how many kayak trolleys omitted to include a kickstand in their design. How is a kayak fisherman supposed to balance the fishing kayak while at rest? It simply wouldn't be possible. The kickstand allows for easier loading, unloading, and resting of the fishing kayak. Simply put – If your trolley doesn't have a kickstand, you're wasting your time!
Oh, and by the way, don't let the featured kickstand concern you about getting in your way. Once ready to get moving, you simply move the kickstand up and out of the way (just like the image shown above). There are no special tools or extra pieces of equipment needed. It truly is an included accessory that comes with absolutely no downside!
Portability
Portability was nearly my #1 favorite feature of this trolley, and portability is one category where this Best Trolley scores very highly. As you can see above, the trolley quickly breaks down into its components allowing you to store the pieces in locations that are convenient for you. In your trunk, under your bed, or even in the hull of your fishing kayak, this trolley is truly designing with portability in mind.
My favorite part is that breaking down the trolley doesn't require any specialized tools. First, I'm not exactly a handy man, nor do I have very many tools. But second, and more importantly, who has room in their fishing kayak to bring along extra tools in the first place? Not me, that is for certain!
Pro Tip: Getting a little tight on room with all of your kayak fishing gear? Learn How to Install a Kayak Rack for Dock based kayak storage! Also, learn why the Best Sit-In Kayak Seat Cushion is the #1 overlooked way to catch more fish (as it extends your level of comfort, and thus time spent, on the water)!
Conclusion
I don't know about you, but I prefer to buy my kayak fishing gear one time and one time only. Kayak fishing can be an expensive hobby. Believe it or not, in the long run you are going to be much better off by investing a little bit more money on the front end on a nicer piece of kayak fishing gear, as its durability is sure to outlast some of the cheaper accessories on the market today. This is why KFC feels so strongly about our Kayak Trolley recommendation.
Simply put, with our Kayak Trolley suggestion, you are assured that you are getting a kayak trolley with all the right features and qualities. Its durability, efficient design, sleek appearance, wide wheel base, and don't forget the kickstand, all make for a very formidable trolley. One that will surely stand the test of time. Buy it once, and buy it right. Trust us, you won't regret this one! Looking for something a little more basic? Take a look at this Standard Kayak Trolley. Here are some quick tips for using a boat launch to get you, your trolley and your kayak safely into the water!
Looking to try a little kayak fishing vacation? Check out what California has to offer, here!
Comments
Do you have any questions regarding KFC's Best Kayak Trolley article or kayak fishing in general? Please share with the rest of the KayakFishingCorner community by posting in the Comments section below.